Weekly News - Friday 11th December 2020
Posted on: 11/12/2020
Christmas, Christmas, Christmas!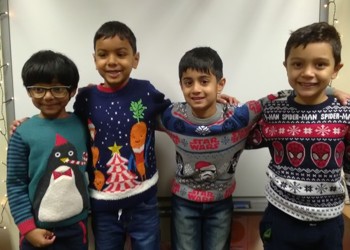 We had so much fun at school yesterday, all dressed in our Christmas jumpers and enjoying a party day at Ducklings/Lower School and a panto day at Upper School! As ever, the Christmas lunch was delicious and lots of fun too.

Elf On The Shelf
The naughty Christmas elves have made their appearance at St. Helen's College once again this year, keeping the children throughout the school entertained, curious and very observant! Thank you to Mr. Smith and Mr. Rizzo for keeping a close eye on them to make sure that they were not too mischievous! You can see photos on our Galleries page here.
Christmas Tree Decoration Competition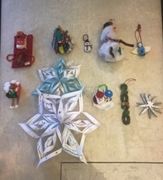 Well done to every child who designed and made a tree decoration. The trees have looked so fabulous with the home made decorations so proudly displayed. The winners were:
Ducklings - Hadi Q
Wrens - Raya R
Robins - Ajit J
Kingfishers - Emily K
Owls - Libby Y
1R - Shayla R
1C - Zayd A
2B - Aaryan K
2H - Veer K
3B - Sarab D
3M - Hana H
4L - Annabelle S
4T - Milo M
5A - Leo J and Aanya B
5G - Kiran A
6M - Pavitar D
6R - Jena J
Christmas Present Appeal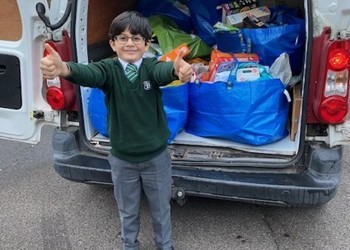 Many thanks indeed to all of the parents and children who gave so generously and donated a toy or game for the Hillingdon Salvation Army's Christmas Present Appeal.

We were delighted to be able to send so many toys and games across to the Salvation Army and we know that they will bring joy to many families this Christmas.
Community Christmas Message
Our Year 3 children recorded a Christmas message to share with the residents of three local care homes: Sweetcroft, Ryefield and Woodlands. We have also sent it to the Salvation Army, the Methodist Church and All Saints Church to spread St. Helen's College Christmas wishes throughout the local community. We thought that you would enjoy seeing this too and we are sure that it has brought lots of joy to the residents of the care homes and members of our local community. You can watch the video here.
Staff Christmas Fun Video
The staff at St. Helen's College would like to wish everyone a very happy Christmas. You can see us getting into the Christmas mood and sending wishes to you all in these fun videos:
Lower School
ABRSM Music Examination Results
We have received the first of this term's (remote) ABRSM examination results and we are delighted for the children who have all achieved so highly as usual! We are awaiting the final sets of results and will publish the complete list at the start of next term. Congratulations to all those who have worked so hard to prepare for their exams and who have been well rewarded.
General Knowledge
Next term the children in Years 3 - 6 will be competing in their class groups and will be tested on general knowledge questions which will then lead to the top performers being selected to represent the school in the annual Prep School Quiz Club competition. Over the Christmas holidays it might be a fun activity for the family to engage in games such as Junior Trivial Pursuit and other general knowledge games to increase your children's knowledge of the world around them. You might like also to encourage them to watch age-appropriate news programmes such as CBBC Newsround and to read an age-appropriate newspaper such as First News or The Week Junior.
Sports Personality Of The Term
Many congratulations to Ollie T, who has been named the Sports Personality of the Term. Reading out the citation for the award, our Sports Captains noted that Ollie is a real all-rounder, who thoroughly enjoys playing a variety of sports and always demonstrates good technical skill and tactical awareness, regardless of the activity. They said that Ollie enjoys working with his peers in PE and games lessons and positively influences, motivates and encourages others to perform to the best of their ability, particularly in inter house matches. Well done, Ollie!
Musician Of The Term
We are delighted to announce that Manisher L has been named the Musician of the Term. Manisher has shown outstanding effort, commitment, dedication and achievement within the music department. She has always worked conscientiously and demonstrated enormous enthusiasm over several years in all aspects of music at St. Helen's College. Manisher has excellent music skills and applies and shares creative ideas successfully in class work. She is a member of the Chamber Choir and, as a music prefect, is an excellent role model within the music department.
Manisher regularly performs at assemblies and recitals both inside and outside of school. As well as playing the ukulele, she plays the piano and the harmonica. She has exceptional musical talent and has recently taken Grade 6 keyboard, Grade 2 piano and Grade 3 harmonica. Well done, Manisher!
Inter House Sports Competition
Children in Year 3 - 6 took part in the Inter House Sports Competition again this week in their games lessons. At the end of the first half term, Windsor led the year long competition so there was friendly rivalry between the houses for the honours this half term. Games and competitions were set up in netball, football, hockey and tag rugby sessions for the children and they all thoroughly enjoyed the opportunity to play for their houses. Results were as follows.
3M Hockey - Winners were Windsor
3B Netball - Winners were Windsor
4L Football - It was a draw
4T Tag Rugby - Winners were Cambria
5A Hockey - Winners were Cambria
5G Tag Rugby - Winners were Windsor
6M Football - Winners were Windsor
6R Netball - Winners were Windsor
These results, combined with the first half term's results, mean that Windsor have won the Autumn Term Inter House Competition. Many congratulations to everyone in Windsor!
PA Christmas Gifts
The PA have generously bought a gift for every child in the school for Christmas: a traditional game of Mikado (pick up sticks). These have been sent home with children today. Parents of our youngest children might wish to hold onto the gift for them until they are a little older. The PA have also sent this written message and a video message too.
PA Christmas Message:
This year we haven't been able to hold a Christmas party for the children but instead have given them a gift each that we hope they will enjoy and will be a keepsake to remember their time at St. Helen's College. We would like to wish you and your families and very happy and safe Christmas.
Staff Farewell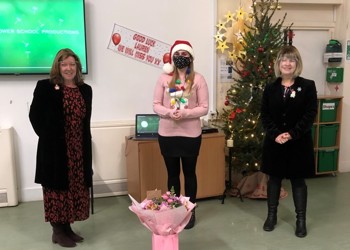 Today we bid farewell to Miss Eaver, who has been at Lower School for the past 5 years. We wish Miss Eaver well as she finally joins her family who have relocated to Dorset and we know that she will be a super addition to her new school. Thank you, Miss Eaver, for all that you have done for the children - the staff will also miss your Disney and Star Wars dress up days!

Looking Ahead - Spring Term
The spring term lunch menu has now been published to the School Documents page of the website and is available here.
Thank you to all parents in Year 3 to Year 6 who have made your spring term co-curricular club selections. The club allocations have now been published to parents and we ask you to make your payments promptly to confirm your child's place at their club.
Bookings are also now open for the spring term Breakfast Club and After School Club. As ever, we encourage you to book in advance if you do know that you will need these clubs on particular days, as forward bookings always help us with planning staffing and catering. Breakfast Club bookings for Lower School must be made by the Friday before the week you need, since we will need to arrange staffing for this in advance. Lower School Funtasia bookings close at 2 p.m. each day, and Upper School Funtasia bookings close at 3 p.m. each day. You may book the sessions you require by logging in to your SchoolsBuddy account.
Drop off/collection arrangements and class bubble group arrangements will remain the same for the spring term as they have been this term. We will, of course, keep a close eye on government guidance related to COVID-19 and will review arrangements if it proves necessary to do so.
We would like the children in Reception to Year 6 to begin wearing their felt caps and boaters again whenever they are wearing full school uniform from the start of the spring term. St. Helen's College woollen hats may be brought to school to be worn in the playground during play times and may be worn with PE/Games kits. Please do also take the opportunity over the Christmas break to double check that uniform is in a good state of repair and that your child has all the necessary equipment as outlined on the Uniform & Equipment List, which is available here.