Weekly News - Friday 22nd January 2021
Posted on: 22/01/2021
National Online Safety Award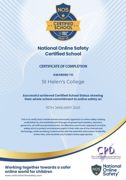 We are delighted that St. Helen's College has successfully met all the criteria to achieve the NOS Certified School Community accreditation for the 2020/21 academic year. This award recognises the school's commitment to Online Safety.
We are totally committed at St. Helen's College to educating children, staff and parents about staying safe online. The vast majority of our staff, including all teaching staff, have recently undertaken training about how to keep ourselves and the children we educate safe while using the internet. Internet safety is embedded into our teaching in all classes during remote education too. Never has it been more important for our children to understand the potential dangers of the internet alongside its huge benefits and potential, so this award is very timely indeed!
Guess The Place
Well done to all of the children who worked out the correct answers to our Guess The Place pictures last week!
For children in Key Stage 2 (Years 3-6), the correct answer was Durdle Door, Dorset.
We had over 400 responses and 113 people correctly guessed the name of the place. Many were close with answers of Dorset or the South coast.
Please remember that all of the pictures will be from somewhere in the UK each week - so don't submit international answers as they will be wrong!
For children in Key Stage 1 (up to Year 2) - the answer was Tower Bridge, London. We had over 130 responses and 42 people correctly guessed the name of the place. Many thought it was London Bridge - just like the Americans!
This week's pictures have been posted to the Learning Portal and we hope the children will have fun doing their research and making their guesses.
Ducklings and Nursery
It has been wonderful to hear the laughter coming from our Early Years classrooms this week as we welcomed back our Ducklings and Nursery children. Thank you to all the staff and parents who are following all of our school protocols to keep staff, children and parents safe. For families who have not yet returned their children to Ducklings or Nursery, please do contact the school before returning.
Charlie Mackesy Art Competition
Thank you to those children who have submitted their entries. The last day for submission will be Monday 25th and the winners will be announced next Friday in assembly.
Guest Speakers in Assemblies
We are very fortunate to be welcoming some guest speakers to our assembly programme this term and would like to remind pupils in Years 2-6 that assembly will start at 8.30 a.m. on Monday 25th. We will be hearing from Jo from the David Shepherd Wildlife Foundation and she will be speaking about Endangered Species. Year 1 will then have a talk at 9 a.m. from her on Elephants. On Monday 22nd February we will also welcome Jason from Blue Cross who will be speaking to us about Pets And Our Wellbeing.
The Big Garden Bird Watch
I am sure that many of you are enjoying your gardens and parks during the lockdown and we would like to encourage you to engage with nature even further by signing up for the annual Big Garden Bird Watch with the Royal Society for the Protection of Birds which runs from 29th January to 31st January.
Do let us know what wonderful birds you spot and enjoy looking after the wildlife on our doorstep.
Year 6 Examinations and Interviews
We are very proud of our Year 6 pupils as many of them have participated in a very different process for their senior school assessments. The pupils have been, and still are, sitting online examinations and interviews. They have taken it all in their stride and demonstrated how adaptable and resilient our St. Helen's College pupils are - well done boys and girls!
Staff News
We are delighted to congratulate our Owls teacher Ms Joiner and her partner, who are expecting their first baby in July. We are also eagerly awaiting the news from Mrs Neri, whose baby is due next week!
January 25th - Burns Night!
I may be in the minority from our community but I will certainly be celebrating Burns Night and enjoying my haggis, neeps and tatties with whiskey sauce this weekend followed by the delicious cranachan dessert! For those of you who are interested to know more about this Scottish celebration please do visit this website. Usually the children at Upper School would be able to taste haggis (both the meat version and vegetarian) here at school. Alas, sadly this will not happen this year,but do remember that you can purchase haggis in most supermarkets!
Perform Drama Workshops
Over many years we have welcomed 'Perform' into school to provide various drama based workshops. They have always been excellent and the children have a wonderful time. They are currently offering Zoom classes for drama, singing and dancing. Please see the link below if you are interested in a free trial.
https://www.perform.org.uk/free-drama-class
Virtual Early Years Open Morning - Friday 26th February
If you have any family members, friends or neighbours who might be interested in entry to St. Helen's College for their son or daughter in 2021, 2022 or 2023, please do encourage them to register for our next online open morning. This event will take place at 10 a.m. on Friday 26th February and anyone interested in future entry for their child will be most welcome to join us. Mrs. Drummond, Mrs. Hunt and Mrs. Smith will be online to present the St. Helen's College Early Years provision and to take questions on the entry procedure. The event can, of course, be joined from anywhere in the world! The link for registration for the Open Morning is here and copied below - please do share this with any family, friends or neighbours who have babies or very young children and might be interested in finding out more about St. Helen's College.

https://www.sthelenscollege.com/263/announcements/announcement/60/announcement/?home=1