Weekly News - Friday 26th February 2021
Posted on: 26/02/2021
Re-opening: March 8th
We are all delighted that we will be able to re-open to all pupils from Monday 8th March. We will be sending a comprehensive communication to parents next week outlining plans for the return, and with an updated risk assessment, but school operations are likely to be very similar to those we adopted during the autumn term.
All children from Ducklings to Year 6 will be required to attend in school uniform from 8th March onwards. If you need to buy uniform, Pullen's are open for Click & Collect on a Tuesday and Friday from 9.00 a.m. – 5.30 p.m. or you can order online at Uniform4Kids for delivery to your home address. If you experience delays in securing new uniform, and your child does not have suitable, properly fitting uniform to wear, then until their new uniform arrives they should wear their PE kits if they fit, or other plain clothing with trainers suitable for indoor and outdoor use.
National Empathy Week
In assembly this week we highlighted to the children in Years 1 - 6 the importance of developing their 'empathy superpower' to raise awareness of National Empathy Week. The children were encouraged to read stories to help them 'walk in another's shoes' and recognise and understand the feelings of others and emotions they may experience themselves. We have challenged the children to take action when they see someone having a difficult day, whether that be an older relative, a sibling, a parent or their friends and to use their 'empathy superpower' to be there for that person; to ask how they are doing, to listen, to not be distracted and to use magic phrases to show they understand how the person is feeling. Read Ms Walker's inspirational guest Head's blog this week to discover more about the importance of empathy for us all.
Pets And Our Wellbeing Assembly
On Monday, we welcomed Jason Cortis from The Blue Cross to our Year 1-6 virtual assembly, who gave a presentation about Pets And Our Wellbeing. We were even joined online by a few pets from pupil and staff households! We learnt how to take care of pets, how important it is to give them choices, how to ensure their wellbeing and how we can look after our own wellbeing too. Many thanks indeed to The Blue Cross for visiting virtually and delivering this talk. You can find out more about The Blue Cross and their valuable work here: https://www.bluecross.org.uk/
Nicola Cooper
We are terribly sad to pass on the news that a much-loved member of our school community, Nicola Cooper, recently passed away after living with cancer for many years. Nicola's daughter, Amanda Cooper, is currently the class teacher of 1C.
Nicola was a familiar face at our Lower School for over 20 years, and made a tremendous and very positive impact on countless children and their families. She was also an enormously valued colleague and friend to those with whom she worked. Rarely without a smile on her face, she found the joy in every situation and she had a natural desire to make life happier for all those around her. She was kind, thoughtful, selfless and, true to herself and the St. Helen's College spirit, she put family at the heart of everything she did.
Nicola's family have chosen, in her memory, to support the new Maternity Bereavement Suite at Hillingdon Hospital. Kit's Cause was a charity created after family friend Rachael and her partner Alex lost their son at 30 weeks in September 2019. The charity raised £15,000 for the new maternity bereavement suite at Hillingdon Hospital. This cause was very close to Nicola's heart. Although very ill herself battling cancer, Nicola most recently still helped their fundraising efforts by knitting Easter chicks. This space is so important because, at the moment, mums who lose their baby have to give birth on the labour wards surrounded by other happy families. This fundraising for a separate private space is so important for families to feel safe and spend time with their babies.
If you would like to make a donation in Nicola Cooper's memory, you can do so here:
https://www.love2donate.co.uk//inmemory/identify_name.php?currentpage=1&chosen=39540&adstate=Y
Rest in peace, Nicola.
Baby News!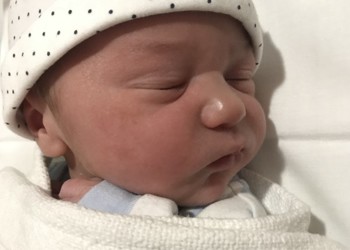 Huge congratulations to Mrs. Neri and her family, who welcomed a son on 11th February at 2.31 a.m., weighing 8lbs. He was 2 weeks overdue and they have named him Harrison Peter James Heggie. As you can see, the latest addition to the St. Helen's College family is beautiful! We are looking forward to meeting him in due course.
World Book Day
On Thursday 4th March we will be celebrating World Book Day. This year's theme is 'Stories Set in Imaginary Worlds'. The children may wish to raid their dressing-up boxes for outfits and/or accessories to match this magical theme, which they should wear during their sessions at home or at school on the day.
Acclaimed children's author Ross Welford will be speaking with the children in Years 3 - 6 and the children in Nursery - Year 2 will be treated to a talk from the fantastic author and illustrator, Emily Gravett.
Details on how to order books for the children, and how to take part in our online book fair, have been sent out via SchoolsBuddy.
We are all looking forward to an exciting and educational day on Thursday and we thank you in advance for your support of the day.
Guess the Place
Well done to everyone who had a go at guessing where our places were this week. The Upper School place was the spectacular Giant's Causeway in Northern Ireland. Many people correctly guessed the Giant's Causeway but only Aiden, Raiden, Penelope, Sean, Joseph, Grace and Tiya in Year 3, Marvin and Eshanvi in Year 4, Anjika, Oliver and Charlotte in Year 5 and Ben in Year 6 correctly placed it in Northern Ireland too.
The Lower School place last week was St. Paul's Cathedral. Congratulations to Simar, Ayush, Alexander, Riya Skye, Simrina, Evie, Alexia, Brendan and Aanya in Year 2, Alyssa, Thomas, Millie, Aakash, Riyan, Shayna, Aran, Armaan, Ella, Amara and Yuvraj in Year 1, Aaria, Aarav and Ivaan from Kingfishers, Grace and Sikhya from Robins, Arup, Arya and Eliana from Owls and Phoebe from Wrens all of whom got it right!
Parent Practice - Free 'The Big Return' Webinar
Many parents have attended talks given by Elaine Halligan of The Parent Practice here at school in the past. Some have also gone on to attend some of her online webinars.
Reminder: Hillingdon STARS Road Safety Competitions
The STARS Team at Hillingdon Borough Council are currently running two Road Safety Competitions.
Full details and downloadable entry forms are contained within the links below. All entries should be emailed to the STARS team by Monday 1st March which will also allow some time after the half term to enter.
KS1 Road Safety Story Book Competition (Early Years and Years 1 & 2)
The children should draw pictures to go with the pages of our new road safety book called "Captain Safety!". They can enter drawings for as many pages as they like.
KS1 Road Safety Story Book Competition.pdf
KS2 Road Safety Invention Design Competition (Years 3 - 6)
The children should come up with a new "Road Safety Invention" which could make our roads safer. They should draw the design as well as explain how the road safety invention would work and how it makes our roads safer.
KS2 Road Safety Invention Competition.pdf
All winners will be announced and contacted in March. We hope the children will have fun creating their entries!
PA Forum Meeting
We have moved the date of the next PA Forum meeting from 10th March to 24th March, to give us all time to re-adjust to the return to school before we meet. Parents are encouraged to wait until the children have been back at school for at least one full week before sending points onto class representatives. Class reps should send points for dicussion to Mrs. Smith by Monday 22nd March at the very latest please: susmith@sthelenscollege.com. We will send reminders nearer the time.