Weekly News - Friday 7th May 2021
Posted on: 07/05/2021
Parents' Evenings (Years 1-6)
Thank you to all of the parents who attended online parent consultations on Tuesday for children in Years 1-6. We hope that you found these useful. The second parents' evening for these year groups will take place this coming Tuesday, 11th May. We look forward to seeing many more of you online then.
Upcoming Author Visit - Baroness Floella Benjamin
On Tuesday 11th May at 10 a.m. pupils in Years 1-6 will have the privilege of joining a live online event with Baroness Floella Benjamin, a truly inspirational speaker. The Baroness is celebrating the publication of both her picture book Coming to England: An Inspiring True Story About the Windrush Generation, and the 25th anniversary edition of her ever-popular memoir Coming to England: two books that give a powerful reminder of how courage and determination can overcome adversity.
Parents and children have the opportunity to pre-order copies of these books if you would like to do so.
THE PICTURE BOOK for younger readers (rrp £6.99) - Suitable for Years 1 & 2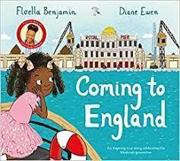 A story about the triumph of hope, love, and determination, Coming to England is the inspiring true story of Baroness Floella Benjamin: from Trinidad, to London as part of the Windrush generation, to the House of Lords. When she was ten years old, Floella Benjamin, along with her older sister and two younger brothers, set sail from Trinidad to London, to be reunited with the rest of their family. Alone on a huge ship for two weeks, then tumbled into a cold and unfriendly London, coming to England wasn't at all what Floella had expected.
Coming to England is both deeply personal and universally relevant – Floella's experiences of moving home and making friends will resonate with young children, who will be inspired by her trademark optimism and joy.
THE MEMOIR (25th anniversary edition) (rrp £6.99) - suitable for Years 3-6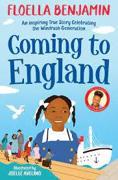 With a foreword by the author and some additional historical information, this is the incredible story of Floella's journey from Trinidad to London, as part of the Windrush generation, to the House of Lords.
Floella Benjamin was just a young girl when she, her sister and two brothers arrived in England in 1960 to join their parents, whom they had not seen for fifteen months. They had left the island paradise of Trinidad to make a new home in London – part of a whole generation of West Indians who were encouraged to move to Britain and help rebuild the country after the Second World War. Reunited with her mother, Floella was too overwhelmed at first to care about the cold weather and the noise and dirt from the traffic.
But, as her new life began, she was shocked and distressed by the rejection she experienced. She soon realized that the only way to survive was to work twice as hard and be twice as good as anyone else.
If you would like to buy copies of Baroness Floella's books, please click on the link below to order
https://chilternbookshops.co.uk/product-category/baroness-floella-benjamin/
Important: as you go through the checkout, you will be given the option to have your book(s) delivered directly to the school, with no delivery charge. If you choose this option, please state your child's name and class in the 'Details Required For School Events' box, as this will ensure correct allocation of the book(s) to your child in school.
This link will be open until midnight on Thursday 13th May.
Models Required!
Pullen's, our uniform suppliers, will soon be doing some updated photographs for their website of children modelling school uniforms. They are looking for 4 or 5 St. Helen's College children aged 4-9 to model our school uniform. The shoot will take place on 2nd June in Elstree (during half term) and the children will be needed for around 4 hours on that day. If you would like your child to be involved, please email templefortune@uniform4kids.com, clearly stating your child's full name and age, and then await further instructions/confirmation.
May Half Term Holiday Club
Bookings will open next week for Holiday Club for May half term. We will send an email to parents when bookings open. Please login to your SchoolsBuddy account if you would like to book a place for your child. Places will be limited to 15 children per bubble and will be allocated on a first come, first served basis. Parents are asked to send packed lunches for Holiday Club during half term as there will be no catering available on site.
Upcoming Events
As we are now gradually able to resume some of our events following such a disrupted period, we would like to remind parents to check the School Calendar regularly and add dates to your own diaries. In particular, coming up soon, we have Sports Days, residential days, Meet the Teacher evenings, Prizegiving and of course our Year 6 performances. Please do make a note of the dates!
Chiswick Lacrosse - Summer Camps
Chiswick Lacrosse will be running two weeks of summer camps this year, during the weeks of 16th and 23rd Aug. These are suitable for girls over the age of 9.
The club has run lacrosse camps for over 30 years and are confident that it gives girls the very best introduction to a sport they may be playing at their senior school when they transfer. Approximately half of the girls who attend the camp are new to the sport. The camps also enable girls to meet up with their prospective peer group as we can group the girls according to their new school.
If you are interested in booking a place for your daughter on one of these camps, you can find further information here. Do let us know if you plan to attend!