Weekly News - Friday 10th September 2021
Posted on: 10/09/2021
Year 2 Coffee Morning
The Evans Hall was buzzing yesterday as we welcomed our Year 2 parents to Upper School for a coffee morning. We are delighted that your children are all settling well at the Upper School and that they have all enjoyed the first full week of life in Year 2!
Meet the Teacher Evenings
It was wonderful to see so many Year 3 and Year 6 parents at our Meet the Teachers Evenings and we look forward to seeing the Year 4 and Year 5 parents next week.
At all the meetings we have shared information on pupil wellbeing and how we can all work together to support the children. Mrs. Brooker, our school counsellor, is available to all our Upper School pupils and parents can request for their children to have time with her via their form teacher. Pupils in Upper School can also self refer and pop a 'Time to Talk' note into Mrs. Brooker's mail box in the school hall.
We also have very good associations with external agencies and we shared details of The Parent Practice and Parental EQ.
More information on the Positive Parenting Coaching and E-Courses from the Parent Practice can be found at www.theparentpractice.com.
The ParentalEQ app can also be downloaded from your mobile device: https://parentaleq.com/get-the-app/ or by accessing their website: https://parentaleq.com/
If you do subscribe to ParentalEQ, please ensure that you choose St. Helen's College on the drop down menu as we are an affiliated school.
The St. Helen's College Trust
The St. Helen's College Trust is a newly established charitable fund which exists to promote the advancement of education in the Hillingdon/Uxbridge local community.
Its aims are to:
provide, enrich and extend educational opportunities for children from birth to age 11, and

provide support, advice and guidance for their parents.
There are many ways in which St. Helen's College parents can support the Trust.
You can donate unwanted textiles to our textile bank outside 227 Long Lane, which will be recycled and for which we receive a small payment.

You can make donations when invited to at school events e.g. performances.

You might like to donate part or all of your deposit to the Trust when your child leaves the school.

You can sign up to EasyFundraising and raise money for the Trust at absolutely no cost to yourself when you shop online with over 4000 retailers.
EasyFundraising donations really mount up and make a BIG difference, so we'd really appreciate it if you would sign up and support us. It's completely FREE and only takes a moment. You can download the EasyFundraising app and use that – it's so easy.
You can find our EasyFundraising page at:
https://www.easyfundraising.org.uk/causes/sthelencoldevfund/?utm_campaign=raise-more&utm_content=gs-e1
If you need any help at all in getting set up with EasyFundraising, please contact Mrs. Smith at susmith@sthelenscollege.com. Friends and family are most welcome to sign up too!

STEAM Day 2021!
We will be holding our next STEAM Day for pupils from Ducklings to Year 6 on Wednesday 29th September 2021.
STEAM (Science, Technology, Engineering, Art and Maths) days are becoming increasingly popular and have been hugely successful at St. Helen's College in the past. Sessions held have included building air powered cars, constructing a bridge to take an adult's weight, solving complex maths problems and making music from found materials.
We would be delighted to hear from any parents in the Upper School who are able to offer a workshop activity. Please can you contact Mr. Harrington at lharrington@sthelenscollege.com outlining what you would be able to offer, what age group it may be suitable for and if you would be available for the full day or part of the day. If you are interested please can you respond by Monday 13th September. If you have any questions about the day please feel free to contact Mr. Harrington.
At Lower School, workshops will be delivered by familiar staff as the children are so recently settled or re-settled into their new environment.
Library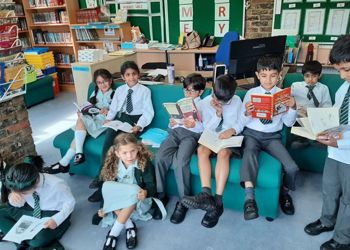 At Upper School, our new Year 2 and Year 3 pupils really enjoyed their first visit to the library! The librarians commented on how engaged and enthusiastic the children were. We hope that they will make full use of the library throughout their time at Upper School - readers are the best learners, after all.
PA Donation - Reading Chairs
There was great excitement at Lower School and Upper School this week when the children received some beautiful reading chairs and benches which will enrich the children's outdoor learning spaces. Thank you to the St. Helen's College Parents' Association for the generous donations which are very much being enjoyed.
Alumni News
We are delighted to share the news that Sahar M, an Old Helenian, has achieved 3 A* grades in her A levels and will shortly be taking up a place at Cambridge to read Human and Social Politics. Sahar was Head Girl at St. Helen's College and will always be fondly remembered by pupils and staff here, not least for her excellent rendition of 'Albert and the Lion', which won her the Speech Competition during her time at Upper School! We wish her all the best in her new adventure at university.
If any of our current parents are alumni or you know of alumni, please do encourage them to join our alumni community by emailing oldhelenians@sthelenscollege.com.
Ducklings and Nursery Entry - September 2022
If you have a son or daughter who is eligible by age for entry into Ducklings or Nursery next September, and you have not yet registered them with the school, please do so as soon as possible. The entry process for these classes will begin shortly. You can register online here.
Teddy Talks
On Monday, we filmed our next set of six Teddy Talks. These talks, aimed at parents of very young (pre-school) children, offer support and guidance on topics of interest. We are delighted that Soula, our chef, has spoken about pre-school feeding/eating, Mr. Harrington has spoken about how to manage the arrival of a sibling, Mrs. Fawbert has recorded a talk on pre-school music, Mrs. Brooker has spoken about helping very young children to regulate their emotions, Mrs. Drummond has offered advice on managing the use of digital devices with pre-schoolers, and Mr. Roche has spoken about the importance of how to make time for ourselves as parents. These new talks will soon become available via our website and on Youtube. In the meantime, if you have not already watched the previous set of six talks, we thoroughly recommend watching them. You can find them here.
If there are any other topics on which you feel advice would be useful for parents, please do let us know by emailing Mrs. Smith at susmith@sthelenscollege.com. We are keen to continue adding to this bank of talks as we know from feedback how useful parents are finding them.
Mother/Baby Mindfulness Classes
Mrs. McLaughlin's Mother/Baby Mindfulness Classes have now begun! These are taking place in the Evans Hall on Wednesday mornings at 9.00 a.m., in six weekly blocks. Our first mothers and babies clearly enjoyed their first class this week. The classes are suitable for mothers of babies aged from six weeks to crawling. They include a mix of mindfulness practice and yoga for mums, and are aimed at supporting mums to support their babies. If you have a baby of the right age for our next set of classes, which will begin after the October half term, or have any friends or family with babies of the right age, please contact Mrs. Smith to sign up at susmith@sthelenscollege.com. The classes are completely free of charge and are open to anyone, whether their child is registered at St. Helen's College or not.
We are planning to expand our programme of pre-school classes for babies and toddlers so watch this space for more information!
PA Welcome Event, Ducklings Uniform Sale and Class Representatives
The Parents' Association will be holding a Welcome Event for families who are new to the school on Saturday 25th September from 12 - 2 p.m. in the Evans Hall at Upper School. We hope that many new families will be able to join them for a warm welcome to the St. Helen's College community!
The PA will be holding a second hand uniform stall for Duckings children on Thursday 16th September from 2.45 p.m. to 3.30 p.m. in the Ducklings Garden. Come and grab a bargain - we look forward to seeing you there!
The PA have vacancies for class representatives for Duckings, 5G and 6R. If you are a parent of a child in one of these classes, and would like to find out more or put your name forward, please contact the PA at pa@sthelenscollege.com.
Co-Curricular Activities
Confirmations of co-curricular activity allocations have now been sent to parents. Please make prompt payment of any fees due via your SchoolsBuddy account. Any queries concerning co-curricular activities or the programme should be addressed to Mr. Harrington, our new Director of Co-Curriculum, at lharrington@sthelenscollege.com.
'School at Work' Open Morning - Wednesday 13th October
We are thrilled that we will once again be able to welcome prospective parents into school for an Open Morning on Wednesday 13th October. Visits on this day will be by appointment only to manage the flow of visitors around the school and we know that our Year 6 children are eagerly looking forward to hosting their first tours of the school! If you have any friends or family with children who would be eligible to join Ducklings or Nursery in September 2022 or thereafter, please do encourage them to book in for a tour on this day. It really is a lovely experience to enjoy a tour conducted by our pupils! They can book in by telephoning the school office on 01895 234371 or by emailing Mrs. Smith at susmith@sthelenscollege.com.
Parking, Drop Off and Pick Up Regulations
We would like to remind all parents that it is crucial that you adhere to the school's parking, drop off and pick up regulations. In particular, please do not block neighbours' driveways on Long Lane, Parkway or in any surrounding streets. We work very hard to establish and maintain good relationships with our neighbours and the local community, and expect parents to support us in this. On Parkway, if you are using drop and go or pick up and go, please do not queue if there are more than three cars in front of you; if so, please drive to the car park and park so that you do not cause congestion along the street.
We thank parents, as always, for your support.
Snacks
We would also like to remind parents that snacks must not contain nuts. We ask that you follow the school's Healthy Eating Policy when choosing snacks. Suitable snacks are fruit or vegetables, or plain biscuits.