Weekly News - Friday 17th September 2021
Posted on: 17/09/2021
House/Sports Captains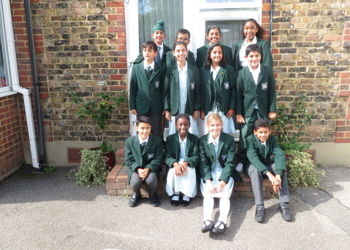 We are delighted to announce our new Year 6 House Captains and Sports Captains. They are:
Windsor Girls' House Captain - Amber P
Windsor Boys' House Captain - Antony F
Cambria Girls' House Captain - Avaani M
Cambria Boys' House Captain - Diyan C
Cambria Boys' Sports Captain - Luka K
Cambria Girls' Sports Captain - Kylah O
Windsor Boys' Sports Captain - Adam K
Windsor Girls' Sports Captain - Charlotte M
Other positions of responsibility will be allocated next week.
Harvest Festival Celebrations
Due to our Covid protocols, we have adapted our Harvest Festival programme. Please read the following information carefully.

As usual, we invite all children to bring in a harvest donation to help those in need in our local community. Please send in non-perishable hampers/baskets/contributions with your child on the dates shown below. These will be donated to the local Salvation Army.
The School Harvest Festivals will take place on the following dates/times:
Upper School: 1st October (All Saints Church) 9 a.m.
Year 5 parents are invited to attend the Upper School Harvest Festival service, which will be led by Year 5 pupils.

Children at the Upper School who are not attending the service at All Saints Church will attend a Harvest assembly at school.
Lower School Harvest Festivals
Kingfishers: 5th October 8.45 a.m. (North Hillingdon Methodist Church)
Owls: 6th October 8.45 a.m. (North Hillingdon Methodist Church)
1R: 7th October 8.45 a.m. (North Hillingdon Methodist Church)
1C: 8th October 8.45 a.m. (North Hillingdon Methodist Church)
Wrens: 11th October 8.45 a.m. (North Hillingdon Methodist Church)
Robins: 12th October 8.45 a.m. (North Hillingdon Methodist Church)
Parents are invited to attend their class performance and morning coffee will be served on each day in the Lower School Hall from 8.15 a.m for those attending the performance. Performances will take place in the Methodist Church.
Chamber Choir Event
We are pleased to announce that our Chamber Choir has their first external event in the school diary and will be attending the London Schools Concert 2021 on 14th November. This is a wonderful opportunity for our pupils to sing in the beautiful St. John's Smith Square and for parents to support the Children's Trust Charity and enjoy an incredible afternoon of musicality from top London Prep School choirs. In previous years, this has been a most enjoyable and rewarding event. We hope that many families will buy tickets to attend and support both the Children's Trust and our Chamber Choir.
Please click here to book your tickets.
Love of Learning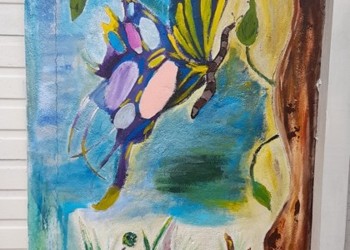 We were delighted to see this beautiful piece of artwork, which Aanya B (Year 6) produced over the summer. Aanya has been inspired by her work in the art studio with Mrs. Pruce, and extended her learning further independently over the summer to produce this lovely wall mural.
One of the St. Helen's College aims is to inspire a lifelong love of learning and it is heartwarming to see this in action every day. Well done, Aanya, on both a super piece of work and on taking your learning forwards independently.
Alumni News
We are thrilled to share some more exciting alumni news! Old Helenian Kareena Sharma has been accepted into Cambridge University to study Medicine at Christ's College.
Kareena attended St. Helen's College throughout her primary school career, leaving in 2014 to attend Beaconsfield High School for Girls. Her parents, who contacted us to share their wonderful news, sent this message:
"We would like to thank St. Helen's College for instilling the much needed core ethics and discipline required to make this achievement possible. Thank you all and please continue your amazing work to make this possible for more young children."
We certainly will do so, and we are sure that we will be hearing from many current parents in the future about your children's successes too!
Co-Curricular Clubs
There are still some spaces available in our Year 5/Year 6 Karate Club which is held on Tuesday afternoons from 3.50 - 4.50 p.m. If your child would like to join this club, please contact Mr. Harrington at lharrington@sthelenscollege.com. The remaining places will be allocated on a first come, first served basis.
Music Lessons
We have a few spaces available for one-to-one music lessons in school for Years 2-6 on the following instruments:
Flute
Singing
Violin
Piano
Students who are already learning an instrument in school may have piano lessons on a Saturday morning but not at other times.
Please note that spaces are limited and will be allocated on a first come first served basis. Any additional applications will be added to the waiting list and you will be contacted once a space becomes available.
If you wish to sign up for music lessons please email Mrs. Fawbert at cfawbert@sthelenscollege.com
Individual and Sibling Photographs
Pupil photographs will be taken next week as follows:

Monday 20th September - Individual Ducklings photographs (taken during the school day)

Tuesday 21st September - Individual Nursery/Reception/Year 1 photographs (taken during the school day)

Thursday 23rd September - Individual Year 2-6 photographs (taken during the school day)
If you have two or more siblings at the school, and would like a sibling photograph taken, you should bring your children to either of the optional sibling sessions:
Lower School (Methodist Church Hall) on Tuesday 21st September from 7.30 a.m.
Upper School (Upper School Hall) on Thursday 21st September from 7.30 a.m.
Please ensure that your children arrive at school on the day of their photograph in full, smart school uniform, with long hair neatly tied back.
Teddy Talks
Our next Teddy Talks are now ready for viewing! While these are aimed at parents of babies and pre-schoolers, we are sure that parents of older children will also enjoy and benefit from the advice offered by our school staff offer. Please do watch them and share them with any interested friends, neighbours and family.
SHC Teddy Talks - Early Years Music (Claire Fawbert)
SHC Teddy Talks - Emotional Regulation in Babies and Pre-Schoolers (Julia Brooker)

SHC Teddy Talks - Supporting Healthy Eating (Soula Kokkinoplitis)
SHC Teddy Talks - Making Time for Yourself (Steve Roche)
SHC Teddy Talks - Managing the Arrival of a Sibling (Leo Harrington)

SHC Teddy Talks - Digital Awareness (Shirley Drummond)
SHC Teddy Talks - Non-Digital Games (Shirley Drummond)
Sleep
School is a very busy place and children can, understandably, get very tired. One of the best ways that parents can support children is to ensure that they get the right amount of good quality sleep for their age. The recommended daily sleep times for children are:

Babies to 12 months - 12 to 16 hours (including naps)
1 to 2 years old - 11 to 14 hours (including naps)
3 to 5 years old - 10 to 13 hours (including naps)
6 to 12 years old - 9 to 12 hours
13 to 18 years old - 8 to 10 hours
It is crucial that children have a calm, screen-free bedtime routine with a regular bedtime. Parents can find further information here:
https://www.nhs.uk/live-well/sleep-and-tiredness/how-much-sleep-do-kids-need/.
Please do support your child to settle for bed calmly and at the same time each evening, and to get the correct amount of sleep for their age. It can be difficult to establish new routines, but the benefits to children (and adults) of doing so are huge.
PA Welcome Event for New Families - Change of Date
The PA Welcome Event for new families has been postponed and will now take place on Saturday 6th November at the Evans Hall at Upper School.
Funtasia (After School Club) Bookings
We have made some minor changes to our wraparound care procedures to ensure that they are as efficient as possible.
Breakfast Club is running from 7.30 a.m. each morning as usual - please make your bookings through SchoolsBuddy as early as you can to secure your place.
To avoid last minute surges in bookings and to ensure that we always maintain high staff-to-pupil ratios, we are asking that parents book their places for After School Club as early as possible, but at the latest by midday on the day that an after school Funtasia session is required. SchoolsBuddy bookings will close each day at 12.00 p.m. Mrs. Rooney administers the Funtasia booking system, so for any emergency requests past the cut-off point for bookings, please call the school office to speak with her about availability. Mrs. Lawrence will continue to manage Funtasia.
We remind parents that, for pick up at the end of the day, there is a ten minute grace period before the children are put into a chargeable Funtasia session.
We thank you for your cooperation.
Lunch Menu
Next week, we are back to Week 1 of the lunch menu. Please note that there have been two minor changes to the menu (which do not affect allergens).
Tuesday and Wednesday's menus have been swapped due to delivery dates.
The chicken meatballs will now be turkey meatballs due to supplier availability.
The updated menu (which will remain in place for the rest of the Autumn term) has been published to the website here.
Natasha's Law
From 1st October, there is a substantial change to the law in terms of the food labelling requirements for pre-packaged goods for direct sale. This change requires all pre-packaged goods to be fully labelled with both allergen information and the individual ingredients of each item offered for sale. The law is also known as Natasha's Law.
Our catering partner, Accent Catering, make all their pre-packaged goods fresh everyday on site. During the last few weeks of the summer term, they were busy training their teams and introducing new recipes, packaging and labelling systems to ensure that they are fully prepared to comply with these new regulations. This affects all sandwiches, bread products, pre-wrapped bakery goods, salad boxes and in fact, any food item that is offered in a sealed package or container.
This term, pupils will see new products in new packaging and new labelling. The recipes have been developed to meet the needs of most of our pupils but if your son or daughter cannot find what they are looking for, they only need to ask one of the catering team who will be delighted to assist them. The extensive allergen controls remain in place but the team remain committed to providing special diets and requirements on request, if they are not covered by the core menu.