Weekly News - Friday 15th October 2021
Posted on: 15/10/2021
Nursery Harvest Assemblies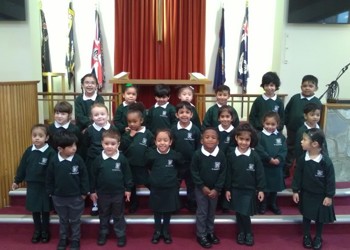 Wow!
We were so impressed with our two Nursery classes, who performed harvest assemblies at the Methodist Church for their parents at the beginning of this week.
It is always incredible to see such young children performing with real confidence and enjoyment. They had clearly learned their songs and actions well and should be very proud of themselves!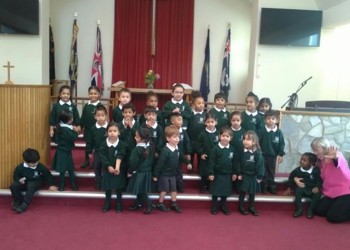 3B Coffee Morning/Class Assembly
On Friday, class 3B performed an assembly all about life in Year 3. They told us how it is different to life in Year 2, demonstrating how quickly they have learned to get changed for swimming and sharing examples of their work, including a report on their recent trip to St. Albans. They performed with great confidence and real enjoyment, with children sharing their particular interests and skills. Thank you, 3B, for such an interesting, informative and enjoyable assembly.
Year 2 Trip to Chiltern Open Air Museum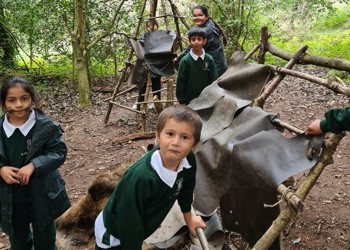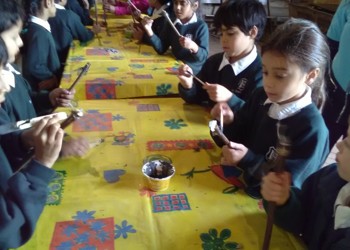 Year 2 had a fantastic visit to the Chiltern Open Air Museum on Thursday.
The children learnt about life in the time of The Stone Age, which they have been studying this term in history. They met a woman from the Mesolithic era and learnt how to make fire, shelters, shoot a special bow and arrow called an atlatl. The children enjoyed making paste with charcoal to paint on material and their faces. They even made their own spears using stone and wood.
Year 5 Trip to Hampton Court Palace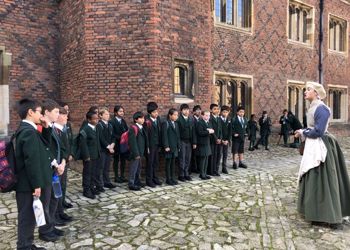 To extend and enrich their History topic of The Tudors, our two Year 5 classes visited Hampton Court Palace on Thursday and had a truly successful day in their first school trip in eighteen months. From the minute they entered the royal gates, they were excited and eager. The children learned from Mistress Alice (the head of the king's laundrette) about how being a servant was a really good job in the 1500s! Our pupils impressed everyone with their good behaviour, relevant questions and by embracing the day with real enthusiasm. They were equally impressed with the grandeur of Henry's apartments, the spookiness of the haunted gallery and the magnificent formal gardens. All in all it was a superb trip!
Sports News
This week our girls' football team took part in an U11 Girls' Football Tournament at Radlett Prep School. They played six matches and finished 4th in the tournament overall. The boys' football team also took part in a tournament, travelling to Manor Lodge Prep School. Again, they played six matches and finished 3rd overall. Well done to all of the players involved in the tournaments - they were very enjoyable occasions and will have helped to develop skills and matchplay further.
School at Work Open Morning
The school was abuzz on Wednesday morning as we held our first in-school Open Morning since October 2019! At Upper School, our Year 6 pupils were super guides for prospective parents and the families who visited were enormously impressed with their knowledge of the school and confident communication skills. At Lower School, our Early Years and Year 1 classes acquitted themselves beautifully and it is amazing to think that so many of these children joined us for the first time in September. They have really adopted the St. Helen's College values and are living them out in their daily behaviour. We were very proud of them. Our prospective families were impressed by the behaviour and communication of the children throughout the school, as well as the impressive work on display. Many thanks to everyone involved in the morning.
Maxwell Garden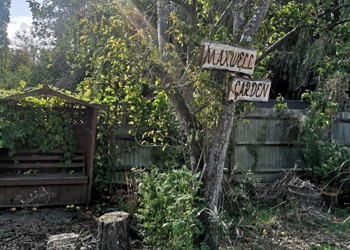 It is wonderful to watch our Maxwell Garden come to life as the pupils and St. Helen's College team continue to develop this outdoor learning area at Upper School.
Nursery/Reception/Year 1 Parents' Evening
Thank you to all of the parents who attended the online parents' evening for Nursery, Reception and Year 1 children this week. We hope that you enjoyed talking with the teachers.
Upper School Parents' Evenings
If you have a child in Year 2, 3, 4, 5 or 6 and have not yet booked your appointment(s) for our forthcoming Upper School parents' evenings, please login to your Schoolcloud account to do so. The face-to-face parents' evening will take place on Tuesday 2nd November, and the online parents' evening will take place on Thursday 11th November.
Individual Music Lessons
We currently have availability for the following lessons for Upper School pupils (in Years 2-6):
Trumpet
Flute
Singing
Please note that these spaces are during the school day, so are only available to students not currently having lessons on another instrument already during the school day. Places are allocated on a first come, first served basis so please contact Mrs. Fawbert if you would like your child to have lessons in one of these: cfawbert@sthelenscollege.com.
Free Half Term Workshops
Rosie, the Education and Community Officer for Dogs Trust covering West London, will be delivering FREE school holiday activity workshops for families about How to Behave Safely Around Dogs and Being a Responsible Dog Owner.
These workshops will take place at Oak Farm, Northwood, Ruislip Manor and Charville Library. They are designed for children aged 7-11, with one accompanying adult, and there will be a realistic toy dog and lots of props that can be used to help make activities really fun!
There is no charge to families to book these workshops and all relevant contact information is on the attached poster here.
Autumn Half Term Camps - Computer Xplorers
Computer Xplorers (who run our Minecraft Club here at school) will be running Autumn half term tech camps. Their programmes are as follows:
Uniform Reminder
After half term, girls should return to school in full, correct winter uniform. The winter skirt should be worn wtih green tights please - no white tights allowed! The winter hats should now also be worn, with the St. Helen's College beanie/ski hats only to be worn inside the school gates for playtime/outdoor sports when it is extremely cold.
Textile Bank
If you are having a clear out over half term, please remember that you can donate any unwanted textiles (clothes, shoes, accessories, bed linen) via the textile bank located outside the school entrance at 227 Long Lane. We cannot accept school uniform items or duvets/pillows/cushions, but anything else is fine! The textiles donated are given to those in need, or recycled into industrial cleaning cloths, so that nothing ends up as landfill, and the St. Helen's College Charitable Trust receives a small donation per kilo collected. Many thanks in advance for any donations.