Weekly News - Friday 5th November 2021
Posted on: 05/11/2021
Diwali
There was great excitement around the school yesterday as the children shared their love of Diwali and how they would be celebrating with their families. It was wonderful to see the sky lit up around the Hillingdon area. Today, Mrs. Raikmo and Mrs. Daheley visited us to present to the Upper School children in assembly, along with Aanya P, Riya B and Diya B. They shared this short video with us, which you might like to watch at home. We all enjoyed listening to their presentations and learning more about Diwali.
If you are visiting a fireworks display this weekend, please keep safety in mind and enjoy the celebrations for Diwali and Bonfire Night!
Niji's Dream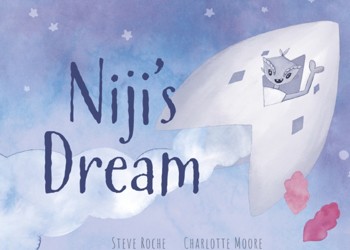 Children in Years 2-6 enjoyed hearing from Mr. Roche, our Head of English, in assembly on Monday about how he came to write his beautiful children's book, Niji's Dream, which has recently been published. This hardback book is filled with gorgeous illustrations and a special message about how we can bring colour to our world. Signed copies are available for children to buy - if you would like to order one, please send in £7.99 cash in an envelope clearly marked with your child's name and class, or make an online payment to the following account, using your child's name and class as your payment reference:
Sort code: 110367
Account number: 11587268
Account name: Mr Steve Davis
Thank you for your support and happy reading!
Ed Sheeran Reads For CBeebies
Tonight at 6.50 p.m., singer Ed Sheeran will be reading a story for CBeebies which will focus on stuttering and how he overcame this as a child. Full details are here and the programme will be available on BBC iplayer too. We do hope you will be able to watch this!
PA Welcome Event
The Parents' Association are hosting a Welcome Event for families who are new to the school this Saturday, 6th November, from 12 - 2 p.m. in the Evans Hall. If you are a family who joined the school in September, please do come along to meet the PA representatives and other new families.
PA Forum Meeting - November 16th
The next PA Forum meeting will take place at 7 p.m. on Tuesday 16th November. If you would like to raise any points for discussion, please send these to your PA class rep by Tuesday 9th November. Class representatives should collate the issues they receive and send these by email to Mrs. Smith (susmith@sthelenscollege.com) by Friday 12th November. Minutes will be circulated to all parents following the meeting.
Time To Talk With Mrs. Brooker
We are very lucky at St. Helen's College to have Mrs. Brooker on our staff. Mrs. Brooker is a qualified counsellor and an accredited member of the British Association of Counsellors & Psychotherapists (BACP). Mrs. Brooker provides a service called 'Time to Talk' at Upper School, when children can spend time with her to play, talk and share their thoughts and feelings. Sessions are held at the Upper School in a safe and confidential space. These are available to all St. Helen's College children and can be accessed via the class teacher or requested by parents. Children may also self-refer by catching Mrs. Brooker at school or by putting a note into the Time to Talk red letterbox in the school hall.
It might be a good idea for your child to consider some counselling support if one or more of the following applies:
they need a private and confidential space to share thoughts and feelings with a professional counsellor who is trained to understand young people;
they are overwhelmed with worries, anxieties or depressive thoughts and feelings;
they find it difficult to manage anger or other big emotions, and it is affecting their capacity to think clearly and learn;
they are struggling with any issues relating to school, friends or family;
they are troubled by self-doubt;
they have experienced loss;
they are not being very kind to themself.
If you would like to find out more about the counselling services offered at St. Helen's College, please speak with your child's class teacher or email Mrs. Brooker directly at jbrooker@sthelenscollege.com.
Free Asthma Workshop
The Hillingdon Asthma Team will soon be running another free workshop for parents to educate about Asthma and all we can be doing to support children who suffer. The workshop will take place via Zoom on December 6th from 4-5 p.m. You need to register in advance if you would like to attend. Full details are available here.
Royal British Legion Poppy Appeal
Next week, our pupil Charity Reps will be selling poppies in the gazebo at Upper School in the morning before school and at break times to support the Royal British Legion's Poppy Appeal. Parents may also purchase poppies when dropping off at the gate at either Upper or Lower School, or you can send money into school with your child so that they may purchase one here in school. You may also make cashless donations online to support the appeal at our JustGiving page here.
Children in Need
Children in Need is on Friday 19th November this year and as usual we will be supporting this very worthy charity. Children may come into school wearing Children in Need items or their own clothes, which could use the Children in Need themes of yellow or spots. You can purchase Pudsey or Blush ears and other Children in Need items at the online Children in Need shop here. We ask that parents make a donation to Children in Need so that children may wear their own clothes on Friday 19th November. You can do this via our JustGiving page here.
Diyan C, one of our Charity Reps, has written this to explain more about Children in Need:
Children In Need is a charity that helps children all over the United Kingdom to make sure all children have a safe, happy and healthy childhood. The first official Children In Need was originally created as a 5 minute radio broadcast on Christmas day in 1927. The first televised broadcast of Children In Need was on the BBC in 1980. Since Children In Need was created, they have raised £600,000,000 to help children in the UK.
Fun Fact: Did you know that the well-known yellow Children in Need mascot, Pudsey, was originally brown!
Switch Off Fortnight

Next week will see St. Helen's College, led by the Eco Team, take part in Switch Off Fortnight. Switch Off Fortnight is a campaign that will encourage everyone at school to become interested in saving energy and cutting their carbon footprint. This year, our hugely popular energy-saving crusade will coincide with COP26 – the UN convention on climate change – which is taking place in the UK for the first time. Not only will we make savings at school but we would like to encourage everyone to take the switch off challenge home, where we hope to inspire our families to take part in saving energy too. The more people involved, the greater the energy savings will be, which in turn will help our environment. The Eco Team will kick start Switch Off Fortnight during Monday's assembly and it will last from Monday 8th November until Friday 20th November. Throughout the fortnight the Eco Team will carry out several audits to see how many lights and appliances have been left on in their classrooms. The class who saves the most energy will be awarded Eco Class of the week. One small click can make a big difference, so happy energy saving everyone!
Recycle to Read
The Eco Team would like to send a big thank you to everyone who donated old toys and electrical items for the 'Recycle to Read' campaign last half term. The items have been boxed and collected and we will shortly know how much we will receive in order to purchase books from Collins Publishers. We will keep you updated with our exciting new books.
Staff Ultra Marathon!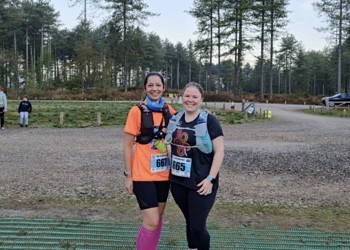 At the beginning of half term, Miss Rackham and Mrs. Rooney took part in a 50km Ultra marathon.
It started at Moors Valley Country Park and finished at Hengistbury Head, Dorset. The route was amazing, following a disused railway line into Poole, then through the town and along the promenade. Miss Rackham and Mrs. Rooney were very lucky to have a super day of weather for the event and they both thoroughly enjoyed it! Congratulations to both runners.
Magic of Illustration at Heath Robinson Museum
At the Heath Robinson Museum in Pinner, there is currently an excellent exhibition of the original illustrations of Winnie and Wilbur and other much loved characters, which includes a unique insight into the inner workings of their illustrator Korky Paul, a very popular children's book illustrator. We encourage you to take your children along to see this super exhibition if you get a chance.
PA Christmas Parties
The PA Christmas parties will take place on Sunday 28th November at the Yiewsley and West Drayton Community Centre. Please save the date! Further details can be seen here.
The PA will be running a raffle at the Christmas parties and would love donations from parents. If you have anything to donate, you can bring items to either Upper or Lower School where there will be collection points outside school each morning. Many thanks in advance for any prizes you are able to donate.
Christmas Gift Ideas
If you are looking for ideas for a Christmas gift for your child, you might like to think of a magazine subscription for them to encourage reading and widen their general knowledge. Magazine.co.uk have a wide range of fun and educational magazines to keep children entertained and engaged, including Eco Kids Planet, Science and Nature, National Geographic Kids, The Week Jr and First News.
Regular reading will help to improve your child's literacy, reduce their screen time, develop a love of reading for pleasure and help them to discover the wider world.
This Christmas, Magazine.co.uk are offering an extra £2.50 off magazine subscriptions: simply use the code XMASBZT at checkout.