Weekly News - Friday 21st January 2022
Posted on: 21/01/2022
Year 4 Trip To Amersham Field Centre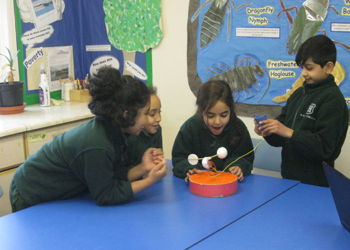 Year 4 enjoyed a wonderful field trip this week, exploring electricity and energy conservation. They toured around a national grid substation, learning all about how electricity gets to our homes. They generated electricity using wind power and water power and went on to power motors using solar panels. The children discussed renewable energy and energy conservation. They put their experimentation skills to the test, making predictions and drawing conclusions. Their final challenge was to build a suitable nest for a small mammal which would keep it warm. They measured the temperature of their dormice after some time in their nests and compared these to a control mouse out in the open. Their nests proved successful at conserving heat within a small mammal!
Value of the Week - Cleanliness
Pupils at the Upper School were introduced to the concept of cleanliness as the value of the week. We discussed the moral aspect of cleanliness of spirit as well as personal hygiene and looking after our environment. It has been wonderful to see the children being extra vigilant around the school looking after the school grounds and taking responsibility for their personal belongings. We hope that this continues at home for you!
We are proud that the pupils of St. Helen's College display cleanliness of morals in their day to day lives too. Their spiritual awareness, willingness to help others and sense of collegiality shine through every day.
Month End Music Recital
Next Friday (28th January) we will have our first Month End Music Recital of 2022. Please join us in the Evans Hall from 3.45 p.m. where many of our young musicians will perform in an informal and friendly setting.
Individual Music Tuition
There are spaces currently available for trumpet, flute and singing lessons. If you wish to begin learning one of these instruments please complete this form to register.
The form can also be used to register your interest to be added to the waiting list for other instruments taught in school (including Violin, Cello, Piano, Guitar and Singing).
Please note that we only currently offer lessons on Violin and Cello to students in the Lower School. All of the instruments mentioned are available from Year 2 upwards.
We would also like to remind parents that a half term's notice is required if you would like to cease individual instrumental or singing tuition. You should give notice by emailing our Director of Music, Mrs. Fawbert, at cfawbert@sthelenscollege.com.
Blaze Netball Club
If you have a son or daughter in Years 2 -5 and they would like to develop their netball skills, you might be interested in Blaze Netball Club which runs at Douay Martyrs School on Saturday mornings. Full details are available here.