Weekly News - Friday 28th January 2022
Posted on: 28/01/2022
1C Class Assembly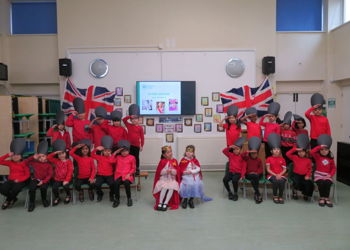 What a super assembly the children of 1C performed for us on Thursday, all about Queen Elizabeth II. They relayed all sorts of information about the Queen and her reign, performed the Changing of the Guard to a super song and sang the National Anthem with pride! It was clear how much they have learnt about our sovereign and how enthusiastic they all are about this topic - they are very much looking forward to their trip to Windsor Castle next month!
Every child spoke their lines with confidence and projection. There was a lot of humour and the smiles on the children's (and adults') faces showed how very much we all enjoyed the performance. Well done 1C!
6R Class Assembly
The pupils of 6R planned and created their own assembly which they performed to us today, entitled Our St. Helen's College Journey.
They used their assembly to look back and reflect on their journey through St. Helen's College over the years. They shared a brilliant piece of collaborative art, performed some wonderful poems that they had written themselves all about their experiences at St. Helen's College, and sang 'A Million Dreams' beautifully. There was hardly a dry eye in the house!
The children also guided us through a brief Mindfulness session.
Well done, 6R, on a first class assembly.
Month End Music Recital
Well done to the performers who entertained us at today's Month End Music Recital in the Evans Hall. We heard a variety of instruments and, as ever, it was lovely to see our young musicians take the opportunity to perform in an informal environment. It was clear to see that the pupils enjoyed it as much as the parents and staff did! Thank you to the families who attended to support our young performers.
Fairness
The children at school have been discussing our value of Fairness this week and thinking about ways to be fair to themselves, to each other and to the world. Mrs. Hunt has written a guest Head's Blog this week which links to the value too - you can read it here.
Burns Night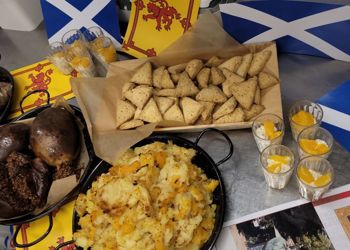 On Tuesday we thought about Burns Night and the children at school had the opportunity to try some Scottish food. They really enjoyed sampling the haggis, neeps and tatties, orange cranachan and orange and lemon caraway shortbread. Thank you so much to our lovely chef Soula for preparing these extras on the day!

Pupil Welfare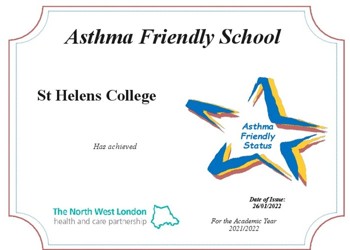 We are delighted to share the news that St. Helen's College has once again been named an 'Asthma Friendly School' by the North West London Health and Care Partnership.
This recognises all that the school does to support children with asthma. This includes our regularly reviewed Asthma Policy, frequent training for the entire staff body, monthly asthma audits and, of course, the first class care that is given to children in school every day. Mrs. Wilcock and Mrs. Beale, our Welfare staff, communicate regularly with parents before children join us and throughout their time at the school to ensure that asthma and other medical issues are managed effectively and sensitively.
Please also see the winter edition of our Welfare Newsletter here. This contains important information about Covid-19, sleep and healthy snacks as well as some fun facts. Thank you for your continued support in keeping children healthy and well so that they are best able to make the most of all the opportunities at school.
Football News
This week, the boys' football team won 5-0 against Whitehall School in a super display of teamwork and skill. The team now progress to the quarter finals of the cup and we wish them well in the next stage of the competition!
Thames Cavaliers - Free Basketball Tickets and Pizza for SHC Pupils
The Thames Valley Cavaliers have a home fixture this Saturday and they would like to invite St. Helen's College pupils (Y3-6) to watch the match for free. They also have free pizza for any St Helen's College students who go to the game! There will be music, entertainment, half-time competitions with prizes and also a chance to meet the team afterwards for some autographs.

Please see this flyer with all the details. There are also free pizza vouchers for your children.

They hope to see lots of you coming to the game to support the Cavaliers! It should be a great night of fun and entertainment.
Hillingdon Sports & Leisure Centre Swim Offer
As parents will know, St. Helen's College has a long-standing relationship with Hillingdon Sports & Leisure Centre, where we take Upper School pupils for swimming lessons as part of our PE/Games curriculum.
The centre are running a special promotion for children of partner schools, which will give parents a £10 discount for a course of Better Swim lessons for your child. Swimming is a vital life skill so we hope that many of you will take up this opportunity to receive a discount on further swimming lessons/practice for your child. You can find full details here.
Heath Robinson Museum 150th Anniversary Art Competition
The Heath Robinson Museum are running a competition for young artists to mark their 150th anniversary this year. Children are asked to produce a piece of art on the theme of 'What would Heath Robinson make of the world today?'. The deadline for submissions is 15th May and there are various age categories. You can find out more, and enter the competition, here. Shortlisted entries will be exhibited at the museum over the summer and there are prizes to be won too. We hope that you will encourage your children to enter - do let us know how you get on!
Jungle Rumble
Perform's family musical Jungle Rumble is being performed at the Fortune Theatre over the February half term. You can see full details and purchase tickets here. St. Helen's College have worked with Perform in the past and we hope that parents will want to support them and that you will enjoy taking your children to see Jungle Rumble!
Lacrosse Easter Camp
Chiswick Lacrosse Club are running an Easter Camp which will be open to girls in Years 5 to 9. This would be a great opportunity for girls currently in Year 5 or Year 6 to have a go at lacrosse before moving on to senior school. If you are interested in finding out more, details are here.