Weekly News - Friday 29th April 2022
Posted on: 29/04/2022
Year 5 Residential Trip - Isle of Wight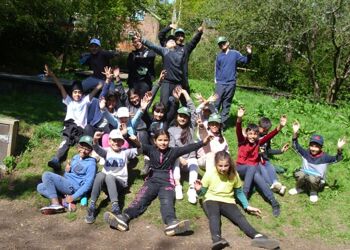 Our Year 5 children return from the Isle of Wight today where they have spent five days on a residential trip. They have taken part in many exciting activities including climbing and high roping, taken a trip to learn all about the Mary Rose and undertaken coastal studies to enrich their geography learning. Five days and nights away from home has also enhanced their independence and cemented already very strong friendships. They return tired but happy!
Maths Quiz Club
The school entered two teams into the Quiz Clubs Inter School Maths competition this week, and our teams performed brilliantly, finishing 2nd and 5th. Both teams have qualified for the semi-finals which will take place on 14th June, and we wish them luck as they prepare for these!
Sports News
The pupils of Year 2 have enjoyed their intensive swimming week this week at Hillingdon Sports & Leisure Centre.
The football team lost their quarter final 2-0 to Heathrow Primary School in a tough game on Wednesday afternoon. Mr. Harrington was pleased with the team's resilience and determination to keep going against tough opposition!
On Thursday, the U11 netball team played in a tournament at Newnham Junior School, progressing through the first round, which gave them some great experience and was very enjoyable too.
School at Work Open Morning
We ran a very successful Open Morning this week, during which our confident Year 6 guides enjoyed showing prospective families around the school. The families who came to look around were, as always, very impressed with our articulate, confident and enthusiastic pupils throughout the school.
Singing Competition
Our very exciting Singing Competition final will take place on Friday 20th May 2022 this year.
The semi-finals will take place like last year with video entries for solos, duets and groups, with finalists being selected to perform live on 20th May, to our guest judge Sarah Hughes.
Only one solo entry per child is permitted (one additional group or duet entry may be made) and submitted by only one email, please.
Please submit your video entry by no later than Friday 6th May 2022.
For Middle School entries please submit to all of the following:
cfawbert@sthelenscollege.com
sbelvoir@sthelenscollege.com
mgarnes@sthelenscollege.com
hhawkes@sthelenscollege.com
For Upper School entries please submit to all of the following:
cfawbert@sthelenscollege.com
mgarnes@sthelenscollege.com
hhawkes@sthelenscollege.com
The subject of the email should be clear, e.g. "Singing Competition: name of child, form group, name of song and composer" and it may be easiest to submit using your school Google drive (don't forget to share the file).
The categories this year are as follows:
Middle School Competition: Year 2 Solo, Year 3 Solo, MS duet, MS group and Best Overall Performance.
Upper School Competition: Year 4 Solo, Year 5 Solo, Year 6 Solo, US duet, US group and Best Overall Performance.
Finalists will be chosen and announced by Friday 13th May 2022 on the school newsletter.
The following rules apply:
There is no set theme this year and we would like to hear songs from all different genres and eras. Singing in other languages is permitted, however we request a translation to be submitted with your entry.
All songs must be age appropriate, melodic and have appropriate lyrics and themes. If you are unsure whether your choice is appropriate, please check with Mrs. Belvoir, Mrs. Fawbert, Mrs. Garnes or Mrs. Hawkes.
We would like to see only simple gestures and appropriate movements relevant to the performance - no dance moves please.
A backing track is required (without words) for the performance. A child may play the piano/guitar etc as part of their performance.
'Harmony at Home' Parent Practice Course
Some parents may remember Elaine Halligan from The Parent Practice, who ran a parent workshop here at St. Helen's College a few years back. Elaine is commencing her next 'Harmony at Home' course on Tuesday 3rd May and some of you may be interested in signing up for this. The course runs remotely from 8.00 p.m. to 9.30 p.m. for 6 weeks.
https://mail.google.com/mail/u/0/#inbox/WhctKKXXFsDmcPFThVKFMccKwphRcHzGmHfBFcgpvxHZPqlgGHXpvMHsVTCTBmGVCXHLnsB
Free Parent Asthma Workshop
The Hilllingdon asthma nurses are offering another free parent workshop on May 13th from 4 to 5 p.m. We hope that many of you will take advantage of this opportunity to hear about asthma and its management. Full details are here.