Weekly News - Friday 6th May
Posted on: 06/05/2022
Year 3 Residential Trip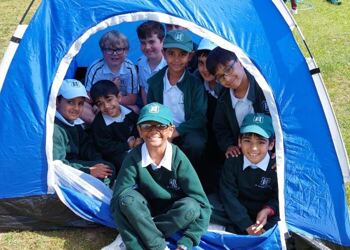 On Thursday our Year 3 children headed off on their first residential trip, to PACCAR scout camp. They have been blessed with gorgeous May weather and it is clear that Year 3 and their accompanying staff have delighted in the vast open air space that is PACCAR. They have shown admirable team spirit and resilience when tackling the exciting activities and fun and laughter has abounded. They return home today rejuvenated and exhausted in equal measure!
There are more photographs of the Year 3 children enjoying themselves on our Galleries page.

Kingfishers Class Assembly - May Day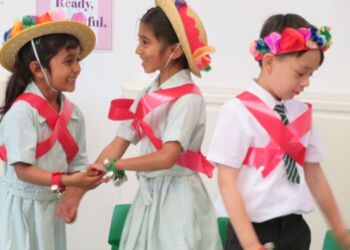 Our Kingfishers Reception class presented a wonderful assembly all about May Day on Thursday to a very appreciative audience of family and staff at Lower School. They told us about - and even demonstrated - morris dancing, maypole dancing and the choosing of a May Queen. There was some really super singing and movement, and every child spoke lines with confidence, grace and real understanding of their words. Outside the hall, the sun was shining too! It was an uplifting and joyful start to our day and we are very proud of the children and their efforts. Well done, Kingfishers.
The Owls Reception class will be presenting their assembly to parents next Thursday, 12th May, at 8.45 a.m. There will be coffee served in the Lower School Hall from 8.15 a.m. and we look forward to seeing Owls parents then.
Music News
We are looking forward to the Musicians' Concert on 17th May at 7.00 p.m. All parents are warmly invited to attend and Mrs. Fawbert will be sending out further details to the parents of the pupils involved next week.
The Singing Competition entry deadline has been extended to 4.00 p.m. on Saturday 7th May, to allow more time for groups to rehearse and send their entries in. We would also like to encourage students to submit a solo performance as well as their group performance. Please note that entries submitted after 4.00 p.m. on Saturday 7th May will not be accepted.
Chess Team
Our chess team very much enjoyed their match against St. Bernadette's School this week. Each player received 1 point for a win, 0.5 point for a draw and 0 for a loss. At half time the score was tied at four points each, but in the end St. Bernadette's won by 9 points to 7. The score was close, reflecting how evenly matched the players were.
Well done to all of those who took part: Jacob N, Raiden B, Anna K, Eva J, Ruby L, Kamran-Cyrus A, Zakariya M, Verity S, Rian M and Jeena H.
Special congratulations to team captains Jacob and Kamran-Cyrus, who each won both their matches. They are in Year 5 and led by example for the other players, who are all in Year 4.
Cookery Club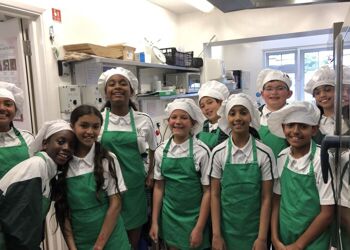 Our Upper School Cookery Club had a great time this week making brownies and smoothies! There are certainly some budding chefs among the group.
Parents' Evenings: Years 1 - 6
Thank you to all of the parents who attended the in-school parent consultations this week. The teachers very much enjoyed talking to you about your children's work, activities and wellbeing. The next parents' evening for Years 1-6 will take place on Thursday 12th May from 5.00 to 8.00 p.m. Appointments on that evening will be held remotely.
Residential Trip Meeting: Year 6
It was great to see so many parents and pupils at the Year 6 French Residential meeting on Wednesday evening this week. It is clear that the children are very much looking forward to this exciting trip and we were delighted by the high levels of trust from parents too.
Year 5 Transfer Meeting
We will be holding a Year 5 Transfer Meeting (to discuss senior school applications/processes) on Tuesday 10th May at 7.00 p.m. in the Evans Hall. We look forward to seeing Year 5 parents there.
Sports Days
We are busy planning our Sports Days for later this term and will shortly be sending out information to parents about these.
If your child has a Sports Day trophy at home from 2019, or if you know of any family who does, please could these be returned to school as soon as possible now, so that we have time to collate them and prepare them for this year's Sports Days.
School Uniform
The current warm weather is set to continue, so please send your children to school now in their summer uniforms.
Holiday Club - May Half Term
Bookings for our May half term Holiday Club will open on Friday 13th May at 4.00 p.m. Due to the Jubilee bank holidays, the Holiday Club will run for three days only: Monday 30th and Tuesday 31st May, and Wednesday 1st June. Places are allocated on a first come, first served basis so please book your child(ren)'s place(s) early.