Weekly News - Friday 20th May 2022
Posted on: 20/05/2022
Wellbeing Day
On Wednesday, we enjoyed our annual Wellbeing Day, during which children across the school took part in interesting, educational and fun activities to support their mental and physical wellbeing.
At Upper School, the day started off with an assembly in which staff showcased their 'talents'. The children were very entertained!
The day continued with parent helpers supporting sessions and Mrs. Patel leading activities in sign language to some year groups. If you would like to reinforce sign language learning with your children at home, the information used is here and here.
Activities throughout the day included a disco, mini-beast hunt, sports, meditation, mindful art and music, spiritual prayer activities, games for the brain, health and safety workshops and a PSHCE workshop led by Ms Lim, to name a few.
We are very grateful to all of the parent helpers and staff who contributed to make Wellbeing Day a memorable event for the children.
We have made a video showing some of the events and activities in which pupils take part regularly at school, and which support their wellbeing. The children enjoyed watching this in assemblies this week, and we are sure you will enjoy watching it too. The video is available here.
You can also see photographs from Wellbeing Day on our Galleries page here.
Musicians' Concert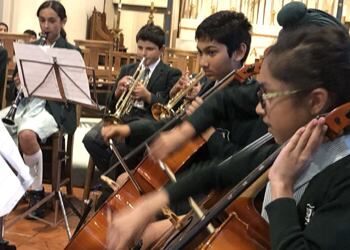 On Tuesday evening, parents, staff and pupils gathered at All Saints Church for our annual Musicians' Concert.
It was wonderful to be able to hold this event again for the first time since Covid struck and what a celebration it was! There were stunning solo, group and orchestral performances with all types of instrument represented.
Very well done to all of the musicians who entertained and moved the audience so beautifully. You can see more photographs of the concert on our Galleries page here.

4T Assembly
The children of 4T presented a class assembly in celebration of the Platinum Jubilee this morning. They told us lots of interesting and important information about Queen Elizabeth II, from her birth right through to today, including acting out her coronation. There were some jubilee songs and a rousing rendition of the national anthem, as well as a quiz at the end to check on what the audience had learnt! Very well done, 4T, on your confident presentation of such an educational and entertaining assembly.
Singing Competition
Our annual Singing Competition took place at Upper School this afternoon and, as ever, this was a thoroughly enjoyable event. Our guest judge Yvonne Fawbert, Director of Music at Sherborne Prep School, was very impressed by the standard of the entries and the children performed their solo and group performances with super musicality and feeling. The winners were:
Year 2 Solo: Gurdaya J
Year 3 Solo: Inaaya S
Year 2/3 Group: Aaryav K, Ayush A, Rohan F
Middle School Overall Winner: Gurdaya J
Year 4 Solo: Samara P
Year 5 Solo: Anaya S
Year 6 Solo: Shruthi T
Year 4/5/6 Group: Layla O, Siyana M, Anokhi B, Kylah O-A
Upper School Overall Winners: Layla O, Siyana M, Anikhi B, Kylah O-A

Very well done to our winners, and a special mention too to Alyssa P, Diyan C and Kylah O-A, who were all highly commended by our guest judge for their performances.

We now look forward to our Singers' Concert on Monday 13th June, to which parents are warmly invited.
Junior Roadwatch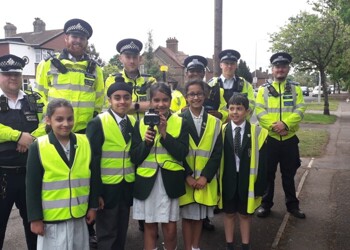 Our Junior Travel Ambassadors (JTAs) took part in the Junior Roadwatch scheme this week, working in partnership with the Metropolitan Police on this road danger reduction education scheme which aims to reduce speeding near schools.
As part of the scheme, primary school children take part in speed awareness sessions with the Metropolitan Police Service's Roads and Transport Policing Command in order to educate drivers about the dangers of speeding near their school.
Drivers caught speeding are pulled over by police officers and given the option of receiving a fixed penalty fine and points on their licence or attending a speed awareness course or, if drivers are deemed suitable, speaking to the children. If they take this option, the driver will receive an educational message from the children and the council staff member.
The primary school pupils ask drivers questions such as "Why do you think the speed limit is 20mph on this road?" and "Are you aware of the consequences of speeding?" The aim is to encourage the driver to reconsider their speed.
Bushcraft Club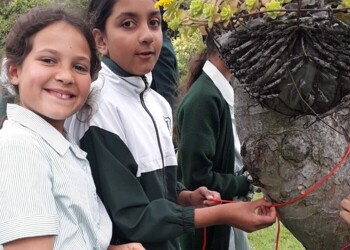 Children at Upper School have been enjoying Bushcraft Club.
This week, the children were learning how to tie different knots and mastered a reef knot, clove hitch and bowline. This is in preparation for shelter building which they will soon be undertaking.

Cancer Research UK Marvellous Moneyboxes
Next half term, we will be fundraising for Cancer Research UK's Relay for Life. Please help your child to choose an empty container at home to turn into a Marvellous Moneybox. This can be an empty box or carton. Suitable examples include a small plastic bottle, take away tub, Innocent veg pot or small plastic Pringles tub. Children at Ducklings and Lower School should bring their containers into school where they will decorate them with their teachers, and Upper School children should decorate their containers at home. Your child can decorate them in any way that they like and then make a slot for coins or notes in the top of the container.
Please could you then encourage your child to fill their Marvellous Moneybox with coins or even notes.
On June 20th we will ask your child to bring their Marvellous Moneybox back to school. The moneyboxes will be displayed before they are emptied and all of the money collected will go to the St. Helen's College RELAY FOR LIFE fundraising initiative.
We can't wait to see what the children will make with their containers! Thank you very much for your support.
Scout Fun Day
Perseverance Scout Group are looking for new members and are holding a free fun day on Saturday 21st May in Sweetcroft Lane. If you would like to go along and try out some scouting activities, full details are here.
Lacrosse
Chiswick Lacrosse will once again be running summer camps to give a taster of lacrosse, which might be of interest to those with children transferring to senior school this year or next. Details are here.