Weekly News - Friday 13th May
Posted on: 13/05/2022
UKMT Maths Challenge Success
The Year 6 children and Zakariya M participated in the UK Mathematics Trust Junior Mathematical Challenge for students in Year 8 and below. We had some fantastic results.
With only one missing answer, Zakariya M won a gold certificate and automatic entry to the Junior Olympiad. Aryan B also won gold and entry to the Junior Kangaroo round. A further nine children won silver and ten won bronze.
Owls Class Assembly
The children of our Owls Reception class performed their class assembly to parents and staff at Lower School on Thursday morning. They re-told the story of Little Red Riding Hood, with a twist, and considered the value of Forgiveness: what this means and how we can demonstrate it in our lives. There was much confident individual and group speaking and some excellent singing, including an accomplished solo performance! Very well done to the children of Owls for this super presentation which was much enjoyed by all.
Trips & Visits
On Monday, the Year 1 classes enjoyed a visit to Windsor Castle to support and bring alive their understanding of their History topic of 'Kings and Queens'.
On Tuesday, our Year 6 children took part in an online 'visit' to the Houses of Parliament, during which they were able to put questions to parliamentary representatives and learn about the parliamentary system.
Summer School - Bookings Open Today
Our Summer School will run this year from Monday 15th to Friday 19th August at PACCAR Scout Camp for children in Years 3 - 6. Details are here and have been emailed directly to parents.
Bookings go live at 4.00 p.m. today and are allocated on a first come, first served basis. Please book your place(s) through your SchoolsBuddy account.
Singing Competition
Well done to everyone who entered this year's Singing Competition. We received so many high quality entries and it has been a very difficult task to select finalists this year. The following pupils have been selected to perform in the live final on Friday 20th May to our guest judge Sarah Hughes. Please can finalists also send an mp3 copy or a link to the backing track they will be using for the final to Mrs. Fawbert before Wednesday 18th May (cfawbert@sthelenscollege.com).
Year 2 Solo
Alyssa P
Armaan V
Gurdaya J
Year 3 Solo
Mia O
Zinnia M
Inaaya S
Middle School Groups
Alyssa, Shayla & Alana
Ashvika & Inaaya
Aaryav, Ayush & Rohan
Year 4 Solo
Ruby L
Samara P
Hana H
Year 5 Solo
Minaya W
Inaya S
Eshanvi A
Anaya S
Year 6 Solo
Kylah O-A
Shruthi T
Diyan C
Upper School Groups
Charlotte & Shruthi
Layla, Siyana, Anokhi & Kylah
Anokhi & Siyana
Maxwell Garden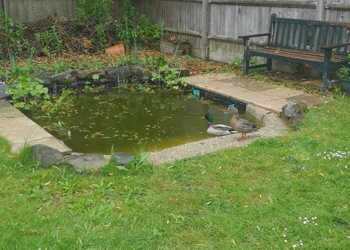 We have had visitors this week to our ever developing Maxwell Garden and we know that the pupils will be delighted to welcome the addition of ducks to the Upper School grounds!
Wellbeing Day
As part of our Wellbeing Day on Wednesday 18th May, we will have Lisa from 'Mrs. Melts' coming in to school to sell her handmade candles and wax melts to the parents and staff. She will be based at the Lower School from 8.00 - 9.00 a.m. and at the Upper School from 3.00 - 4.00 p.m.
We have a slightly altered lunch menu for Wellbeing Day, which you can access here.
Sports News
Sports Days
Our Sports Days this year are scheduled for:
Ducklings - Friday 8th July
Pre-Prep (Nursery/Reception/Year 1/Year 2) - Thursday 9th June
Prep (Years 3 - 6) - Friday 17th June
Details for the Pre-Prep and Prep Sports Days have been sent to parents this week and are available at the links below. Parents are warmly invited to attend these events.
Pre-Prep Sports Day (Nursery/Reception/Year 1/Year 2)
Prep Sports Day (Years 3 - 6)
Cricket
Middlesex Cricket are offering free youth membership to children aged 0-8, and low-cost memberships for those aged 9-17. If your child is interested in cricket (or if you are, and would like to introduce them to the sport), you can find details here.
News from the PA
There will be a PA meeting on the 18th May at 7.30 p.m. at the Vine Inn in Hillingdon. All parents are most welcome to attend.
Hillingdon Guided Family Bike Rides
Hillingdon Council offer free guided cycle rides to encourage families to get out and about on bikes. The idea is for you to enjoy an easy, family-orientated, guided cycle ride with Hillingdon cycle instructors, with a stop for refreshments and a chance to enjoy the sights of Hillingdon.
None of the rides are a race so you can take them at your own pace. All routes will be fun, safe and interesting with the distance, duration and terrain of the ride varying according to the type of ride.
Ride leaders are passionate and keen cyclists, who have been trained to guide groups of people and are employees of Hillingdon Council. They also have been trained in first aid.
Upcoming family rides:
Northala Fields ride - Sunday 22 May
Starting from Hillingdon Leisure Centre at 10 a.m. and returning at 2 p.m.
Summer Reading Challenge-themed ride - Tuesday 26 July
Starting from Uxbridge Library at 9.30 a.m., going to Oak Farm Library and returning at 12.30 p.m.
Summer Reading Challenge-themed ride - Wednesday 27 July
Starting from Botwell Green Library at 9.30 a.m., going to Yeading Library and returning at 12.30 p.m.
Summer Reading Challenge-themed ride - Thursday 28 July
Starting from Ickenham Library at 9.30 a.m., going to South Ruislip Library and returning at 12.30 p.m.
Queen's Jubilee Celebration and Art Exhibition
Hayes End Methodist Church will be holding a Jubilee Celebration on Friday 3rd June from 2.00 to 5.00 p.m. There will be activities and entertainment for the family, a jubilee tea and barbecue. As part of the celebration, children from the local area are encouraged to produce a piece of Jubilee-themed artwork, which will be exhibited at the event. This is not a competition; every child who takes part will receive a Jubilee gift/memento and will have the joy of seeing their work exhibited! Details of the celebration are available here and details of the art exhibition are available here.
SparksArts Free Workshop Vouchers and Summer Shoots
SparksArts are offering St. Helen's College children vouchers for two free filmmaking workshops. These take place at Bishop Ramsey School in Ruislip on Saturdays from 10 a.m. to 12 p.m. You can download your voucher here.
SparksArts also run Summer Shoots, filmmaking summer camps where children aged 5-18 produce their own movie production in a five day workshop. The young filmmakers work in small, peer age film crews to produce their own movie masterpiece. They devise an original storyline, direct their scenes, shoot their shots, crew their set, star in their movie and edit it too. At the end of the week, they proudly share their work with family in a special presentation and later celebrate with a red carpet premiere event too (in peer age 'studio' groups). Further information and booking is available here: https://www.sparksarts.co.uk/product/summer-shoots-2020/.