Weekly News - Friday 27th May 2022
Posted on: 27/05/2022
Year 6 Residential Trip to France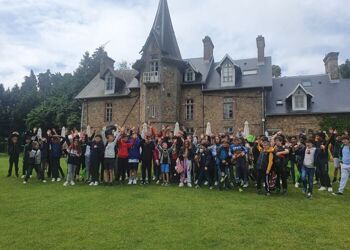 Our Year 6 pupils have had a wonderful time this week at the beautiful Chateau de la Baudonniere in Normandy, France, where they have taken part in an immersive week of French language and culture.
They have enjoyed meeting their penpals, making bread, visiting a market and goat farm and taking part in some challenging and fun physical activities, amongst other things. They return today tired and happy, filled with experiences they will never forget.

Year 4 Residential Trip to Flatford Mill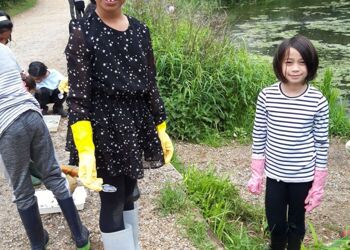 The Year 4 classes have spent the last three days in Flatford Mill, Suffolk. On the way, they stopped off at the village of East Bergholt for a whistle stop tour.
While at the centre, they have taken part in many activities including pond dipping, mammal trapping, shelter building and a twilight walk and enjoyed time around the campfire.
There is no doubt that the children have enhanced their independence, enriched their learning and had the most fantastic time spending time together too.
Robins Class Assembly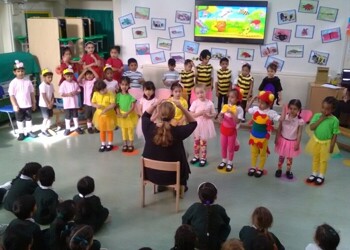 What a super assembly we saw from our Robins Nursery class on Thursday! They told us all about their topic of 'Mini-Beasts' and all that they have learnt. Did you know that butterflies taste with their feet, or that worms breathe through their skin? It was hard to believe, watching them, that these children are just 3 and 4 years old. They spoke their individual lines with confidence and projection, sang beautifully and acted out their parts with clear enjoyment, slithering like worms, crawling like caterpillars, buzzing like bees and fluttering as ladybirds and butterflies. There was even a spider! Very well done, Robins, you brightened up our morning and taught us so many things.

Nursery Trip to Bekonskot Model Village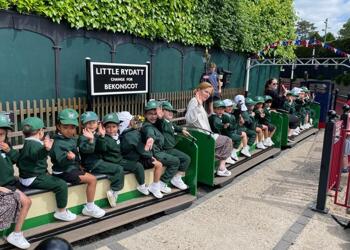 Today, Wrens and Robins had a wonderful day stepping back in time at Bekonscot Model Village.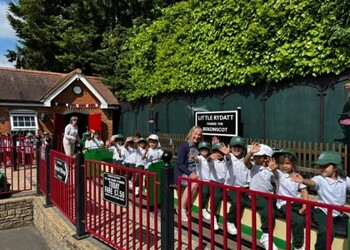 They made the most of the beautiful sunshine, were captivated by the tiny village and loved exploring the adventure playground. The highlights of the day were a ride on the narrow gauge railway and taking part in the time machine workshop. All agreed it was a great day out!

Pedestrian Training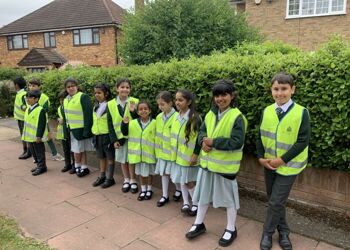 Children in Years 2-5 undertook pedestrian training this week, led by the Hillingdon STARS Team (Safer Travel and Road Safety). The pupils were taught, and practised, how to stay aware when walking and how to cross driveways and roads safely by stopping, looking and listening.
We would be grateful if parents would reinforce the safety message at home with children, including the mantra: Remember - Stop, Look, Listen...THINK!

World Environment Day
World Environment Day on Sunday 5th June, hosted by Sweden, is the biggest international day for the environment. Led by UNEP and held annually since 1974, the event has grown to be the largest global platform for environmental outreach, with millions of people from across the world engaging to protect the planet.
"Only One Earth" is the campaign slogan, with the focus on "Living Sustainably in Harmony with Nature".
Over 150 countries are participating, and the UN will engage governments, businesses, civil society, schools, celebrities, cities and communities to take action.
We encourage you all to follow the link below and watch the four short videos to learn more about the environmental crisis and how we can all help to overcome it.
https://www.worldenvironmentday.global/get-involved/earth-school-challenge
Jubilee Day
St. Helen's College will be celebrating the Queen's Platinum Jubilee with a special day at school on Monday 6th June. Everyone is invited to wear red, white and blue for the day. The children will enjoy an outdoor picnic lunch, for which you can see the amended menu here. There will be special extended assemblies and some lessons and activities will have a Jubilee theme. Clubs will be on as usual.
Class and Whole School Photographs
On Tuesday 7th June, we will be having our official class photographs taken at school by Tempest and on Wednesday 8th June there will be a whole school photograph taken in Court Park. On these days, all pupils must come to school in full, correct, summer uniform. For children currently at Lower School, there will be no need for PE kits on these days. At Upper School, pupils should bring PE kits to change into if your class usually has PE or Games on that day.
Sports Days
Our Pre-Prep Sports Day (for Nursery, Reception, Year 1 and Year 2) will take place on Thursday 9th June, with timings as follows. Please note the slightly amended start time for Nursery/Reception:
Year 1 and Year 2: 8.45 a.m. – 11.45 a.m.
Nursery & Reception: 12.30 – 3.00 p.m.
Full details about this event were sent directly to parents and can be found here:
Pre-Prep Sports Day.
Parents of children in Years 3-6 are reminded that you must let us know whether you will be attending Sports Day and providing a picnic for your child, as well as your child's collection arrangements on that day. Full details for the day, including the link to give your lunch/collection arrangements, are available below:
Prep Sports Day (Years 3 - 6).
Singers' Concert
The Singers' Concert will take place on Monday 13th June at 7.00 p.m at All Saints Church, Long Lane. Members of the Junior Choir, Senior Choir and Chamber Choir will be performing in this concert. All soloists performing will be contacted directly by Mrs. Fawbert or Mrs. Garnes. Parents are warmly invited to attend the performance.
Music Lessons
If you wish to request music lessons for your child or to add them to the waiting list for music lessons, please complete the following Google form to register.
https://docs.google.com/forms/d/e/1FAIpQLSejd_XZ8SXTClIyL4p4O8020hMoUVPbTVeu6vKzY4Z9crNZDA/viewform
PA Summer Fete
The PA Summer Fete will take place on Saturday 18th June from 1.00 to 4.00 p.m. at our Upper School site. There will be many, many stalls with entertainment, food, face painting and much more. We do hope that you will all come to join us on the day. Entry is free and the fete will be supporting Cancer Research UK. Details of class stalls, along with a chance to sign up for the rota for your class, have been sent out directly by SchoolsBuddy.
Parents are asked to bring donations for the Fete and Sports Day into school from Monday 6th June onwards. There will be donation bins outside entrances from this date onwards.
Parents are also encouraged to volunteer, via PA class reps, to help with setting up/clearing away/other jobs for the Summer Fete.
Many thanks to everyone, in advance, for helping out!