Weekly News - Friday 10th June 2022
Posted on: 10/06/2022
Pre-Prep Sports Days
On Thursday, classes from Nursery to Year 2 took part in their Sports Days at Court Park, and were blessed with some lovely weather. The children embraced all of their different sporting challenges and were delighted to receive rosettes to celebrate their achievements in both track and field events. There was some super sportsmanship on display and we felt very proud of them all!
Many thanks to all of the parents who came along to support the children.
You can see some photographs on our Galleries page.
Prep Sports Day
Parents of pupils in Years 3-6 must fill in this short Google form (one for each family) to let us know if you are planning to attend Sports Day on Friday 17th June and what your child(ren)'s lunch and going home arrangements will be. Please read the information below carefully first.
Sports Day will run all day and children in Years 3-6 will need to be dropped off by parents at Hillingdon Athletics Stadium between 8.00 a.m. and 8.40 a.m. on Friday 17th June. There will be no Breakfast Club available for Years 3-6 on this day.
Lunch will be from 12.00 p.m. to 12.30 p.m. Pupils will be able to sit and have a picnic with their families or with a nominated friend's family at lunch, or a packed lunch can be provided by the school.
We anticipate finishing at approximately 3.00 p.m. Parents should take children home directly from the stadium after the prize giving ceremony. There will be no Funtasia After School Club available for Years 3-6 on this day. We hope very much that parents will be able to attend the event but, if you are unable to attend, please make arrangements for your child to go home with friends on this day.
The programme for Sports Day, with approximate timings of events for each year group, has been sent to parents today and is available here.
4L Class Assembly
Our 4L class presented a marvellous assembly today in which they illustrated the beauty and benefits of nature, including forest bathing and spending time in rural settings. They shared poetry and artwork to showcase the natural world around them and celebrated Sir David Attenborough's 96th birthday with an interesting quiz in his honour. They delivered their production with professionalism and enthusiasm, giving lots of inspiration and ideas about how to look after the environment too! They also celebrated the Maxwell Garden's bustling ecosystem and even held a short meditation practice. Well done, 4L!
Jubilee Celebrations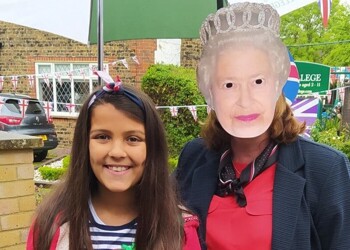 We had fun celebrating the Queen's Platinum Jubilee at school on Monday, despite the rather gloomy weather!
Everyone dressed in red, white and blue and the school was festooned with bunting. We enjoyed special assemblies and a street party style lunch too.
At Upper School, the children were greeted by The Queen herself as they arrived! Can you guess who is under the mask?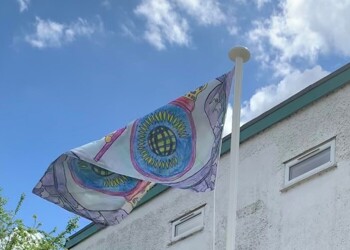 Aanya B and Ivaan M were the winners of the Jubilee flag design competitions and their flags are now flying proudly at school!
Aanya's flag at Upper School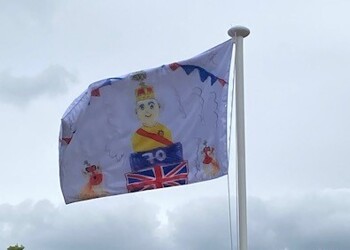 Ivaan's flag at Lower School


Year 2 Trip to Iver Environment Centre
Our Year 2 classes took a trip to Iver Environment Centre today to enrich their learning in science. While there, they went on a mini-beast hunt, had a great time pond dipping and made a visit to the rainforest. The children had a fantastic time!
Bushcraft Club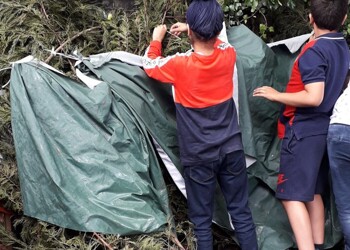 This term, Bushcraft Club have been busy learning how to use a compass, considering the Countryside Code and practising how to tie knots.
These new skills were put to good use this week when Bushcraft Club were tasked with building a shelter. The children had lots of fun using natural materials and tarpaulin to create a free standing tepee or a suspended tent between the trees.
The success of their shelter building was tested when Mr. Smith simulated a passing shower of rain. Some of the group did get wet!

Karate Success
Several St. Helen's College pupils, having been introduced to karate via after school clubs here at school, have now taken up the sport locally at Mr. Kumedzina's club. They competed this weekend and across the team they won 2 golds, 2 silvers and 10 bronze places. What a wonderful testament to the children's work ethic and attitude!
Year 1 and 2 Summer Plays
Our Year 1 and 2 classes will be performing their summer plays at The Compass Theatre in Ickenham on Thursday 23rd June. Children in the St. Helen's College Nursery and Reception classes will attend the Compass to watch the dress rehearsal on Wednesday 22nd June, along with any children in Year 4 who have a sibling performing (since Year 4 children will be swimming on the afternoon of Thursday 23rd June). Children in other year groups at St. Helen's College may be taken out of school by parents on the afternoon of Thursday 23rd June to attend the performance with their family if they have a sibling performing.
Tickets for the plays are now available and must be purchased directly from The Compass Theatre. Parents should purchase tickets and attend only the show in which your child is performing; if you have a child in both Year 1 and Year 2, please make sure that you purchase the 'package' option containing tickets for both shows so that you pay for one show only. Due to the size of the theatre, ticket numbers are limited to 3 per family. The booking links are here:
Parents of pupils only in Year 2, CLICK HERE to book The Emerald Crown tickets
Parents of pupils only in Year 1, CLICK HERE to book Stella the Starfish tickets
Parents of pupils in both Year 1 AND 2, CLICK HERE to book a package ticket to both Stella the Starfish AND The Emerald Crown
Please also note the following arrangements regarding drop off and pick up for rehearsals and the performances.
Tuesday 21st June
8.30 a.m. Year 1 parents to drop Year 1 pupils off at The Compass Theatre. Year 2 pupils to be dropped to school as usual.
3.30 p.m. Year 1 and Year 2 parents to collect Year 1 and Year 2 pupils from The Compass Theatre.
Wednesday 22nd June
8.30 a.m. Year 1 children to be dropped by parents at The Compass Theatre in their costumes.
All other pupils to be dropped off at school as usual.
All children to be collected from school at their usual end of day time.
Thursday 23rd June
All pupils to be dropped to school as usual.
1.30 p.m. Year 1 performance to parents at The Compass Theatre.
2.30 p.m. Year 2 performance to parents at The Compass Theatre.
All Year 1 and Year 2 children to be collected/taken home by parents from The Compass Theatre after their performance.
We look forward to seeing Year 1 and Year 2 parents at the performances.
PA Summer Fete
The Summer Fete is always a super day which brings the whole St. Helen's College community together to celebrate and have fun. Please be sure to add the date to your diaries now: Saturday 18th June, 1 - 4 p.m. at the Upper School site.
We are short of donations at the moment for the Summer Fete. Please bring donations of raffle prizes to any school entrance as soon as you can. Parents of each class are also asked to make donations for your class stall, as per the letters sent out earlier. If you are unsure what your class has been asked to donate, please check with your PA class rep.
Many thanks in advance for your support.
Cancer Research Relay for Life
Once again this year, the St. Helen's College community is supporting Cancer Research's Relay For Life. We encourage pupils, parents and staff to join our team and to attend the Relay itself which will take place on Saturday 16th July at Harrow School. This is a 24 hour event but you can come for as long or short a time as suits you. Our team and others will walk the track in relay throughout this time to show that cancer never sleeps, and nor does the fight against it.
We encourage you also to dedicate a candle of hope. Details are here. It is one of the most poignant moments at the Relay for Life when lit candles are placed around the track as night begins to fall. Everyone is invited to dedicate a candle to someone no longer with us, a friend or family member living with cancer, a loved one who has survived, or perhaps as hope for the future - a world where all cancers are cured.
There is also a link here if you would like to make a donation to the St. Helen's College team.
We thank you all in advance for your support.
Summer Netball Camp
Blaze Netball Club are running a summer camp at Bishopshalt School from 25th to 29th August. Information is available here.