Weekly News - Friday 9th December 2022
Posted on: 09/12/2022
Christmas Celebrations
On Monday, the youngest members of the St. Helen's College community, our Ducklings, sang some Christmas songs for their parents.
The Nursery children performed their musical Christmas nativities on Monday and Tuesday in the Methodist Church. As ever, for such young children to sing so confidently in front of a large audience was very impressive and they told us the Christmas story beautifully through their songs. Well done, Robins and Wrens.
Wednesday saw the pupils in Years 2 to 6 visit the Theatre Royal, Windsor for a fun-filled performance of the pantomime Sleeping Beauty, which was thoroughly enjoyed by all.
On Thursday, children throughout the school tucked into a Christmas lunch prepared by our chef Soula and her team. It was a very festive occasion! At Ducklings and Lower School, the children wore their party clothes and enjoyed a visit from Father Christmas! Children in Nursery, Reception and Year 1 were transfixed by visiting pantomime performers too.
Congratulations to the winners of our Christmas decoration competition. There were some really super homemade decorations throughout the school so it was a very tricky one to judge this year!
It was super to see so many parents at our annual Carol Service at All Saints Church this morning. As always, it was a very special event with beautiful solos sung by Arshvir S and Minaya W, confident readings from our Year 6 children and lovely festive music from the three choirs and the orchestra.
Merry Christmas everyone!

PA Christmas Parties
The Parents' Association would like to thank all of the children and parents who volunteered their time to help with the Christmas parties and for all of the generous hamper donations for the Christmas raffle. The children - and Father Christmas - all seemed to enjoy the entertainment!
Care Home Visits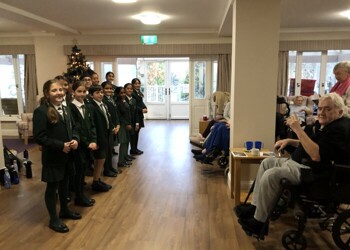 The residents of Woodland Lodge and Chalfont Care Homes were delighted with their recent visits from our children. The pupils sang Christmas songs and chatted with the residents and Christmas cheer filled the rooms.

Sports Personalities of the Term
This term we have joint Sports Personalities of the Term!
Emily S has made a great contribution to netball this term. Her hard work and can-do attitude has led to a huge improvement in her netball ability and she always has a positive impact on her peers when working as a team.
Kamran-Cyrus A has worked hard to secure a place in the football team this term. He is a positive member of the team, often using his humour to raise the team spirit. He has shown great dedication during lessons and matches.
Emily and Kamran-Cyrus thoroughly deserve to be joint sports personalities of the term. Well done to both!
Music Personality of the Term
Congratulations to Arshvir S, who has been awarded the Music Personality of the Term. Arshvir has been, for many years, a fantastic contributor to the musicality of the school. He has excellent music skills which he applies well in class work, is a dedicated member of both Senior Choir and Chamber Choir and, as a Music Prefect, sets a super example within the music department, always offering to help others. He has performed on the piano in assemblies and recitals and was chosen to sing the solo verse of Once In Royal David's City at the Carol Service this morning. Well done, Arshvir, and thank you for your commitment to music at St. Helen's College!
Spring Term Calendar
Please remember to check the school calendar and take note of relevant dates for next term. It promises to be another busy one with many special events including the Year 3 play, our annual Speech Competition and Recital and much more.
Spring Term Menu
The menu for the spring term has been posted to the website and is available here. Do take a look and review options with your child.
Start Date And Payment For Co-Curricular Activities
Parents who have not yet made payment for their spring term co-curricular activities should do so as soon as possible, please.
Mother/Baby Mindfulness Classes
Our next set of Mother/Baby Mindfulness classes will begin on Wednesday 11th January after the Christmas break. These are FREE to parents and are open to any parent of a baby from birth to pre-crawling, whether the parent has any association with St. Helen's College or not. They take place on Wednesday mornings at 9.00 a.m. in the Evans Hall at our Upper School site on Long Lane, opposite Lower School. Each class lasts 45 minutes and is followed by optional tea/coffee/chat.
The classes are led by Poonam McLaughlin, a St. Helen's College teacher, who is a qualified PAUSE Baby Mindfulness practitioner. They provide a safe space for mums and babies to bond and relax, taking part in Mindfulness exercises and some very gentle yoga.
If you would like to join the set of six classes starting in January, please email Mrs. Smith at susmith@sthelenscollege.com with your baby's name and date of birth.
Please feel free to share the information about the classes with any other friends or family who might have a baby (birth to crawling - no crawlers allowed!). They don't have to have children at St. Helen's College (or intend to send children here) to come along - the classes are free to anyone.
Pro-Soccer Christmas Camp
Pro-Soccer are running a Christmas Camp at Swakeley's School in the week before Christmas. If any parents are interested in this, you can find full details here.