Weekly News - Friday 13th January 2023
Posted on: 13/01/2023
Year 6 Visit The Houses of Parliament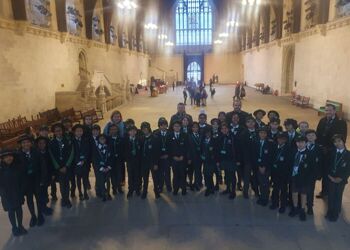 On Tuesday, our Year 6 classes enjoyed a visit to the Houses of Parliament. They were given a tour of the houses, which included using the Queen's/King's entrance and sitting on the benches of the House of Lords. They walked through Westminster Hall, the site of many historical moments such as the trial of King Charles I and the recent lying-in-state of Queen Elizabeth II.
After the tour, all of the children took part in a workshop on voting and representation, then headed across to Westminster Abbey. Here they saw the Coronation Chair and the Tomb of the Unknown Warrior before walking through the tombs of the Tudor monarchs and exploring Poet's Corner. It was a great day out full of history and heritage.
Ducklings/Nursery/Reception Parents' Evenings
Our Ducklings, Nursery and Reception Parents' Evenings will take place on the following dates (all in person, at the Lower School):
Thursday 26th January (5.00 - 8.00 p.m.)
Tuesday 31st January (4.00 - 7.00 p.m.)
To book your appointment, please use the following link.
https://sthelens.schoolcloud.co.uk/
Free Parent Webinar - Every Mistake Is A Teachable Opportunity
The Parent Practice, with whom St. Helen's College has worked for many years, are running a free webinar for parents next Wednesday (18th January) entitled 'Every Mistake Is A Teachable Opportunity'. All parents are invited to join the webinar, where you will learn:
How we can teach our children to take responsibility for their actions.
To forgive themselves and to learn something from the experience that will make it less likely that it will happen again.
To not be afraid of making mistakes.
To accept that with every mistake can always come a repair.
You can find further details and register for this webinar here. We hope that many parents will choose to attend.
Chess Tournament
We have many eager young chess players at St. Helen's College. If your child is enjoying their chess and would like to enter a local tournament, there is one being held on Sunday 29th January in Uxbridge. You can find full details, including information on how to register, here.