Weekly News - Friday 20th January 2023
Posted on: 20/01/2023
5A Class Assembly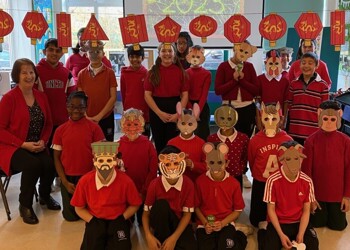 We all enjoyed 5A's excellent class assembly this morning, which focussed on Chinese New Year. The children spoke and sang beautifully and acted their parts with confidence. Well done 5A.
Drama 4 All at the Lower School
Children from Nursery, Reception and Year 1 took part in Drama4All sessions today. Naomi led the Circus themed sessions and the children eagerly involved themselves in the 'big top' activities. It was lovely to see all our thespians in action! If you would like more information about Drama4All sessions you can find this here.
Netball Results
Our netball teams played two matches this week.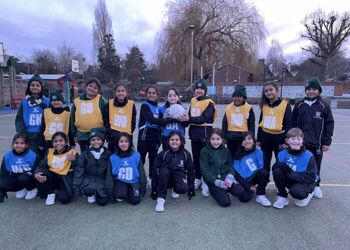 On Tuesday the girls in our Year 3/4 netball club took part in a fixture against Reddiford School at home. In the very cold conditions they played two small sided games each and were able to maintain possession and score points using the skills they have worked very hard to improve. This was a great first fixture for the pupils.

On Wednesday the Year 5/6 Netball team played in a league netball match against St. Mary's School. St. Helen's College won 10-3, displaying great shooting and timing on the ball. They also showed how versatile they could be, rotating through positions throughout the match. We were very proud of their performance.
General Knowledge
Pupils in Years 4, 5 and 6 will be participating in the annual SATIPS Challenge which is a General Knowledge paper of 100 questions. Many independent schools around the UK and overseas take part in this prestigious competition and we are looking forward to seeing how our pupils perform.
We pride ourselves on how well rounded and knowledgeable our pupils are. As parents you enrich their general knowledge by exposing them to so many opportunities and experiences. Maybe now is the time to ensure that your family subscribes to one of the superb current affair platforms/newspapers. Do take a look at the following:
Kiddle (Music)
Raising Dragons (STEAM)
iArt Competition 2023
Once again this year, St. Helen's College pupils will be invited to take part in the iArt Competition. We have a very good track record in the competition and are hoping that this year will see further St. Helen's College success.
The competition's theme this year is The Environment.
We know that our pupils feel passionately about the environment and sustainability. Their competition entries might show what motivates them to feel like this and which projects and individuals they admire..
The subject of the artwork can be anything to do with the environment, for example:
An environmental concern, eg pollution, litter, mining, electricity generation, traffic, warming of the oceans, etc.
A simple landscape the pupil loves and which could be severely affected or disappear altogether if global warming is not tackled.
A project the pupil admires, eg litter-picking, beach cleaning, animal rescue, wind farms, tidal defences, etc.
A person the pupil admires, eg environmentalist, famous person passionate about environmental matters, etc.
Anything else they feel fits the theme!
Pupils can paint, draw, make a collage, create a model – anything that stimulates and interests them, as long as it relates in some way to the theme.
The school is permitted to submit its best four entries for the competition and all entries must be handed into form teachers or to Mrs. Pruce by April 24th at the absolute latest. Entries will also be displayed around the school.
Shortlisted entrants will not only receive vouchers to use at local independent bookshops but also have their entry pitched as a story to local newspapers, with the chance that the entry and a photo of the entrant will be published.
We wish the children happy creating!
World Book Day
World Book Day will take place on 3rd March this year and, as usual, we will be spending the day considering our favourite books and taking part in some exciting literary-themed activities. Children may wear their own clothes and the theme this year is pyjamas!
Holiday Club - February Half Term
Holiday Club bookings for the February half term week will open next Friday (27th January) at 12 p.m. Please login to your SchoolsBuddy account to make your bookings.
Baby Mindfulness Classes
Mrs. McLaughlin is currently running FREE Mother and Baby Mindfulness Classes in the Evans Hall on Wednesday mornings. If you have, or know of anyone with, a baby aged from birth to crawling and you would be interested in joining these classes, please email susmith@sthelenscollege.com. The classes are open to anyone, regardless of whether they have a child at St. Helen's College.
Textile Bank
We would like to remind parents that the school has a textile recycling bank outside 227 Long Lane. You may use this to recycle any unwanted clothes, bed linen (not actual duvets/pillows), bags, shoes and accessories. Anything that can be used is donated to those in need and anything that cannot is recycled into industrial cleaning cloths so that nothing becomes landfill. The St. Helen's College Trust, a registered charity which supports children in the local area, receives a small donation per kilo of textiles collected.
Squash Stars
Aimed at 5-9 year olds, Squash Stars is a new six week junior beginner programme at Hillingdon Squash Club starting on Saturday 4th February at the Brunel University Sports Centre. For just £42, your star will get six sessions and a kit bag which includes a racket, ball, Squash Stars t-shirt and a pair of goggles straight to your door.

Squash is suitable for children of all backgrounds, shapes and sizes and is an inclusive, indoor sport. By taking part in Squash Stars, your child will benefit in many ways:
They'll have lots of fun whilst being active and learning something new.
It's an opportunity to make friends outside of school.
They can put their new skills into practice and head to the court as a family, giving you an opportunity for extra quality time together.
The sessions boost confidence and encourage them to reach for the stars.
Parents can find out more and sign children up at squashstars.co.uk