Weekly News - Friday 3rd February 2023
Posted on: 03/02/2023
Robins Class Assembly
On Thursday, the children of Robins presented their assembly all about the four seasons to an eager audience of parents and staff in the Lower School Hall. The pupils sang several songs and spoke a poem in unison to tell us the story of the four seasons, before leading us in a prayer of thanks for our beautiful world. It was delightful to see them remember their words, sing and speak with confidence and enjoy being on 'stage' in front of their parents. Well done Robins!
4T Class Assembly
What a fun and informative assembly 4T gave us this morning. They shared all that they have been learning about electricity by presenting a performance which included a game show named Dosh! The children were so confident and knowledgeable and it was clear to see that they have had a great time finding out all about circuits, electrical safety and alternative forms of power. Congratulations to all those who took part.
Nursery Visit from Natural History Museum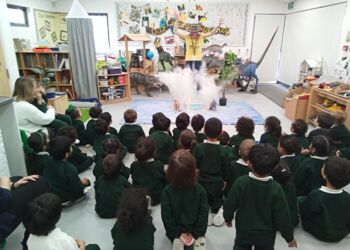 The Nursery had the most amazing experience this morning. Many dinosaur models had set up camp in the classroom.
Dinogirl explained all about them, discussing their size, their food and even how the apatosaurus digested its food.
The children got to touch the models, explore sand-digs hunting for fossils and try out dinosaur stompers.
This was a truly wonderful experience, finished off with a meteorite explosion to show why the dinosaurs may be all extinct!

Year 2 Great Fire of London Workshop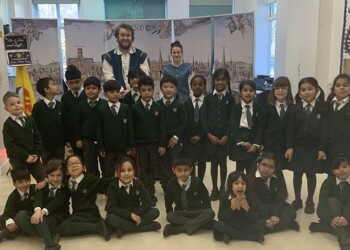 On Wednesday, Year 2 enjoyed an exciting performance about The Great Fire of London from the Trunk Theatre Company. The show was performed out of a trunk and it led the children through the story of the characters and events of The Great Fire of London. The children laughed and cheered as the story was brought to life with songs, dance, games and water! The workshop ended with the children drawing a new version of London together. This was an exciting experience for Year 2 and it really enhanced their history learning.


Sports News
Our football team restarted their league campaign after the winter break on Wednesday, in inclement weather, with a match against St. Matthew's School. The boys started brightly, passing the ball around and showing confidence in their dribbling skills. We did not capitalise on early chances and unfortunately went 1-0 down from a corner which we were unable to clear. In the second half the team again started brightly with good possession and increased confidence on the ball. St. Matthew's unfortunately broke away and went 2-0 up with a very good cross and header. Despite the loss, Mr. Dyson was very encouraged by the St. Helen's College team performance; the boys showed great determination despite the disparity in height and strength between the two teams. We look forward to our next fixture at home this coming Wednesday against Heathrow Primary School.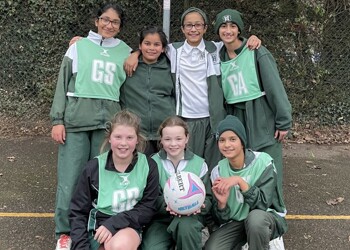 This Wednesday the Year 5/6 Netball team won 8-0 against St. Andrew's Primary School. The girls showed off their shooting skills and were consistently making great interceptions and maintaining possession throughout the match. Well done!





One World Day
Our One World Day on Friday February 10th is fast approaching. The children will be off timetable for the day and will have a wide ranging variety of activities during the day. We have a special menu for the day for the children in Nursery to Year 6, which the children helped to devise.
We would like the children to come to school in clothes that represent their culture on this day. If this is not possible, they can wear the colours of the flag of their chosen country. Some of the activities planned are active and the children MUST wear comfortable shoes, ideally trainers, and bring a coat.
If you are volunteering over lunchtime on One World Day and you have not yet responded to Mrs. Briggs's message about lunch, please let her know by Tuesday so that the catering team can ensure we have the correct amount of food for Friday.
Early Years Parents' Evenings
It was lovely to see so many parents at our Ducklings, Nursery and Reception parents' evenings earlier on this week and we hope that you found the conversations useful.
Eat The Rainbow - Purple Recipes
Accent Catering's colour for February is Purple and they have shared these recipe cards, themed around purple, for you to try at home with your children. Have fun cooking!
Uxbridge Rock Show
The Uxbridge Rock Show is returning to Uxbridge Library from 6th to 23rd February. This is a chance for children to get hands on and discover more about rocks and geology so we hope that many of you will enjoy taking part.
Perform Drama Classes - Discount for St. Helen's College Parents
We were very pleased to receive a visit from Perform a few weeks ago. The Lower School children had a wonderfully energetic time exploring the theme of Circus Adventure and using drama, dance and singing to help develop their confidence, concentration and social skills.
Perform run regular weekly classes in the local area and they are offering a special introductory discount to all parents of St. Helen's College. This offer expires on Friday 10th February so please do sign up now if you are interested.
To claim your discount, just call Perform on 020 7255 9120 quoting SHLE100223 or visit perform.org.uk to find out more.
Flu Vaccination
The flu virus can spread easily, especially amongst younger children in enclosed spaces like the classroom. For children with existing health conditions there is a higher risk of serious illness that could lead to hospitalisation.
As temperatures fall again in the coming weeks, getting vaccinated against flu gives your child extra protection from this dangerous virus which spreads more easily in colder weather when we spend more time with friends and family indoors. All primary school children (from Reception up to Year 6) are eligible for a free flu nasal spray. The nasal spray is quick and painless and most children will be able to get it at their school. If you missed the vaccination here at St. Helen's College, it is not too late – you can still get a flu vaccine from your GP if your child has a long term health condition and is in the 'at risk' category or your local School Aged Immunisation Service.

Visit www.nhs.uk/wintervaccinations or search 'NHS child flu vaccine' for more
information. You can also contact the Hillingdon immunisation team directly at cnw-tr.ImmunisationTeam@nhs.net.