Weekly News - Friday 8th February 2019
Posted on: 08/02/2019
Quiz Club Success
On Tuesday, eight members of our General Knowledge Quiz Club took part in the annual general knowledge quiz area heat at Davenies School in Beaconsfield.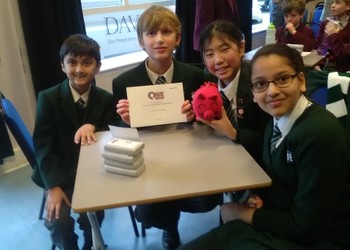 Two teams of four children went head to head against nine other teams to answer forty general knowledge questions. Subjects included geography, history, classical music, films and literature. It was a close contest and our teams showed great knowledge and determination.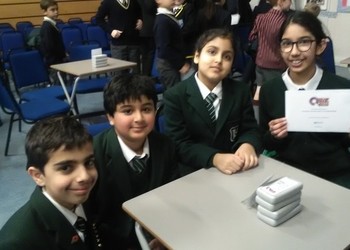 We are very proud to say that our teams finished in 2nd and 3rd place. Well done to Arushi (6M), Anisa (6M), Catherine (5A), Daniel (5G), Ben (4T), Vidhit (4T), Aryan (3B) and Anjika (3B).
Sign2Sing
All across the school this week our children have raised awareness of a very small charitable trust, Sign2Sing, by taking part in their annual event 'Sign2Sing'. In their music lessons the children have been learning British sign language to a popular Take That song. Mrs. Smith, one of our Year 3 Teaching and Learning Assistants, has also been running a sign language club at lunchtime. Each assembly gave me tingles and we were delighted that Tony the representative from the charity was able to join us yesterday to enjoy our performances.
It is so important that we raise our children's awareness of this disability but that they realise that deaf people are able to communicate and lead a very enriched and fulfilling life as they do. For those of you who have not seen the Oscar nominated short film about Maisie the 6 year old girl I would highly recommend it.
https://www.youtube.com/watch?v=YkIbPTV1NIE
A special thank you is due to Georgia in Year 6, who has been inspired by this charity and arranged a 'Guess the number of sweets in the jar' event at Upper School, which raised £100 yesterday. We will announce the full amount raised next week and thank you all for your kind donations.
You can see videos of the assemblies here:
Lower School - https://youtu.be/SwFWlEaXy40
Upper School - https://www.youtube.com/watch?v=gj0R5EKWJeY&feature=youtu.be
Year 5 Sell Their Cereals
Pupils in Year 5 have been busy taking part in their own 'The Apprentice' challenge. The brief was to come up with a new cereal for children and our pupils worked in their English, art and computing lessons to put together a pitch for their own brand new cereal.
In art lessons they made and designed cereal boxes, in English they wrote a presentation pitch which would persuade supermarkets to buy their product and finally, in computing, they put together an eye catching and informative stop motion animation for their pitch.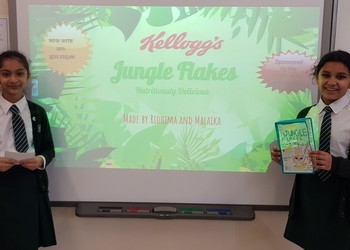 The children worked enthusiastically to develop their ideas and the delivery of the pitches by all of the children was to a high standard and very professional. Watch out Alan Sugar - the next generation are on their way!
Chinese New Year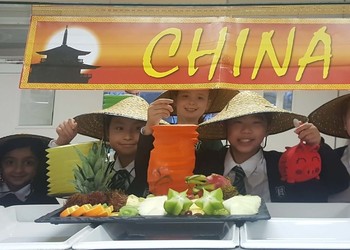 We had a great time at school this week celebrating Chinese New Year. The children loved the special menu created by Soula and her team for lunchtime.
The children in Year 2 particularly enjoyed seeing Joleen demonstrate how to use chopsticks properly!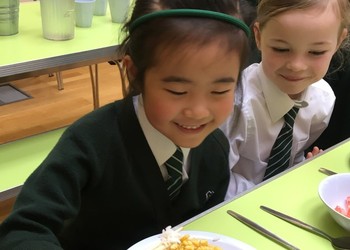 Assemblies This Week
On Thursday, the children of Robins Nursery performed superbly as they shared with us the traditions and history of the Chinese New Year. A most colourful and confident performance from every child - congratulations!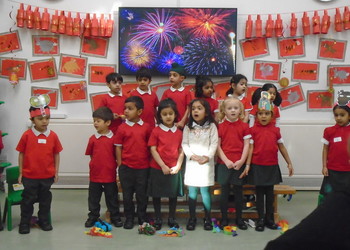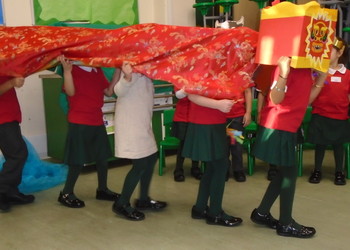 2H told us all about The Great Fire of London in their assembly today.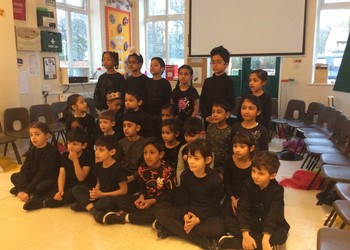 Their re-enactment of the Great Fire of London was really entertaining, with wonderful singing, dancing and drama. We are so fortunate to live so close to London and I am sure that many of the pupils will enjoy visiting so many of the landmarks they have been learning about.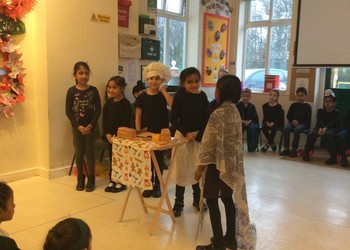 The visiting 2H parents had an extra treat today as the Middle School children also performed their Sign2Sing song to their audience - a very poignant moment.
5A performed a wonderful, thought provoking assembly this week on dreams and aspirations. The children recited a fun poem by Gareth Lancaster and re-enacted the traditional story of 'The Three Trees'.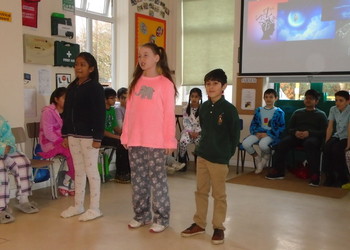 Parents and pupils alike joined in to sing 'A Million Dreams', led by a confident and proud 5A, all dreaming big to be the very best that they can be in their futures.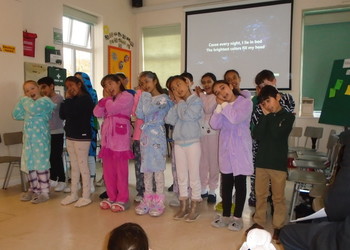 Sports News
Handball Competition
Last Saturday some of our Year 6 pupils took part in the district handball competition held at Oakwood School. The event, supported by Ruislip Eagles Handball Club, who provided referees, saw ten teams of boys and girls play this exciting and fast paced game. St. Helen's College had two teams taking part and both teams played very well during the group stages, winning many matches. Our A team progressed to the semi finals to play Oak Farm in a thrilling match which was won by just one goal by Oak Farm. Player of the day was Thomas W who was outstanding in goal! Well done to everyone who took part and congratulations to the A team who were presented with bronze medals.
If your child is interested in handball, they might like to join the Eagles handball club for training. More details can be found here.
Information about Thames Valley Cavaliers basketball club's Saturday programme and half term holiday camp can be found here.
Netball Results
Netball teams from Langley Hall came to St. Helen's on Wednesday to play netball against our Year 6 girls. Our A team won 9 - 0 and the B team lost 10 - 0.
In the local schools' netball league our team played Hermitage school last night. After a shaky start, the girls rallied in the second half and the final score was 10-4 to Hermitage.
Mindful Sit
Pupils from Ducklings to Year 6 will take part in a mindful ' Sit Together' on Monday, where they will embrace the moment and sit mindfully to enjoy a strong silence. This activity is being carried out by thousands of children across the UK to raise awareness for National Children's Mental Health Week. More details can be read here:
https://mindfulnessinschools.org/sit-together-for-childrens-mental-health-week/
Month End Music Recital - Next Friday (15th February)
We would like to remind parents that our February Month End music recital is happening rather early, next Friday, because of half term! Please do come along to this lovely informal occasion to hear the pupils perform, playing their musical instruments or singing. You will be most welcome, whether your child is performing or not. We look forward to seeing many of you there.
PA Class Representatives - Forum Meeting Tuesday 12th February
Please let your PA class rep know if there is any point relevant to the whole school community which you would like us to discuss at the forthcoming forum meeting on 12th February. Any points which relate specifically to your class or year group should, as always, be addressed to the class teacher. We are particularly interested to hear any feedback or ideas from the parent community about car sharing and how this may be embedded further throughout the school.