Antarctica by Mrs. McLaughlin
Posted on: 08/02/2019
This week we have a guest blog from Mrs. McLaughlin, who has been inspiring the children at Upper School with assemblies about her journeys in Antarctica.
On Monday I had the opportunity to lead the Middle School and Upper School assemblies. When I am given such opportunities I like to share my life experiences with the children: having written a book, explored Antarctica with Sir Robert Swan, trekked the Amazon Rainforest and the Himalayan range, hiked Mt Fuji in Japan and volunteered in Palestine, there is something there that intrigues everyone.
On Monday, I chose to inspire the children (and staff) with my Antarctica story. It seemed apt with the children having had a snow day on the Friday and temperatures in other parts of the world sinking to lows never experienced before. I showed the children videos and pictures of my trip and talked about what it was like to visit one of the coldest, loneliest and driest places on Earth.
The children were in awe!
I started by telling the children that I had watched a video that Sir Robert Swan had shown the children at the school I was working in at the time, and it was this video, showing the beauty and wonder of Antarctica, that made me determined to visit. I shared this video with the children and they seemed to be just as inspired as I was.
As I continued to show the children videos and pictures, I could see their eyes widen with excitement. The story of my friend Jemima the penguin and the leopard seal was one of the stories that intrigued them most.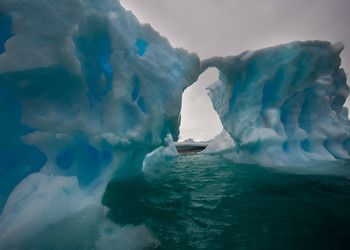 After telling my story of perseverance, co-operation, respect and fairness - just some of the values we teach here at school - I went on to explain the real reason I visited Antarctica. It was to make a difference, however small. It was to make small changes in my lifestyle and to inspire others to do the same, so that the world could be a much nicer place to live in.
I shared some eye-opening facts about climate change with the children and asked them what they felt was the number one threat to our planet. I got so many fantastic answers: pollution, noise, humans, artificial intelligence and more. The children were surprised but quickly realised the truth when I told them Sir Robert Swan's most famous quote: 'The greatest threat to our planet is the belief that someone else will save it.' This alone inspired me to do more and I know that it got the children thinking too.
Since the assembly, the children have asked me a whole host of questions and have carried out research about Antarctica independently of their own accord. As a school, we continue to work closely with our Eco Reps to make a big impact in small ways. This includes taking part in 'Waste Week' and 'Switch Off Fortnight', ensuring that electricity is used efficiently, growing our own vegetables and monitoring food waste. Last year we achieved the Eco Schools Silver award and we are now striving for the prestigious 'Green Flag' award.
If there is a final message I can leave you with, it is this:
'The greatest threat to our planet is the belief that someone else will save it.' - Sir Robert Swan OBE

Mrs. McLaughlin