Weekly News - Friday 15th February 2019
Posted on: 15/02/2019
Half Term Activities
Although no formal homework is set during the half term break, the teachers are offering some optional activities for pupils to keep them occupied. Please read on to find out more about these optional opportunities.

World Book Day - 7th March
This year for World Book Day our theme will be 'Stories from Around the World.' We have a range of fantastic activities planned for the children throughout the week including a visiting book bus, author talks and book quizzes. We will not be dressing up for Book Day this year; however, we will be creating a photograph compilation display of the children in traditional dress from around the world. Form teachers will issue guidelines for the challenge following the half term break.
"There are many little ways to enlarge your world. Love of books is the best of all." – Jacqueline Kennedy
Mindful Sit
Congratulations to the whole school for taking part in the Mindful Sit this week, sitting in complete silence for five minutes to experience the sound of silence. Many thanks to the Year 5 Mindfulness Ambassadors, who led the assemblies in Lower School and Upper School to explain what Mindfulness is and to demonstrate some practices. True ambassadors for how to be mindful!
Assemblies This Week
Money Money Money!
6W took on the challenge of financially educating the children in Upper School with their assembly all about money this week. They presented ideas about how to earn pocket money and how to make financially responsible decisions about how to use your money. The 6W pupils explained you can EARN, SAVE, SPEND or DONATE your money. There was even a working cash machine in the assembly issuing money!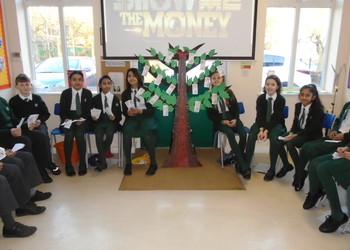 Developing our pupils' financial literacy and ability to manage money is one of our PSHCE themes and such an important life skill, so the 6W pupils have challenged the pupils in Upper School to take on an optional half term pocket money challenge. They have encouraged the children to find some helpful jobs they can do around the house to earn a little bit of pocket money and everyone has been given a half term 'Money Flow Diary' to complete to show how they EARN, SAVE, SPEND and DONATE their money during the week. After half term they will share their diaries and what they did with their class in PSHCE lessons.
The themes of 6W's money assembly and ideas about teaching your child about financial responsibility can be found on the Cha-Ching Family Zone here. The resources are excellent and may be of interest to families for developing the child's life skills with money.
Valentine's Day
There was so much love in Lower School this week as Kingfishers Reception class performed their wonderful assembly celebrating the history and traditions of Valentine's Day. We even had a marriage celebrated on the day with our bride and groom! A delightful performance by all the children and so poignant as the children shared their Valentine's messages to their families.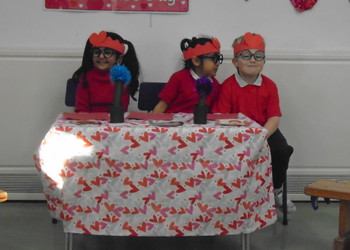 Nursery Counting Cushions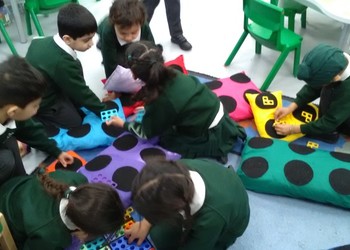 The Nursery children absolutely loved counting on their new cushions this week, which have been kindly made by Brenda Hunt. The children used the Numicon pieces to count and then matched them to the cushions. Thank you very much Brenda!
Owls Visit the Art Studio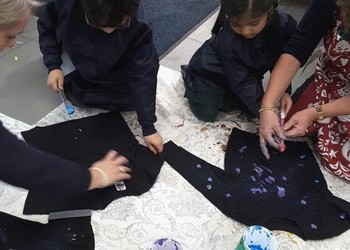 The children of Owls Reception class visited the Upper School Art Studio and Miss Dear this week to create space-themed t-shirts for their upcoming assembly. The children were very excited to come over to the Upper School and see the Art Studio and they created some lovely t-shirt designs!

Year 2 Trip to Heath Robinson Museum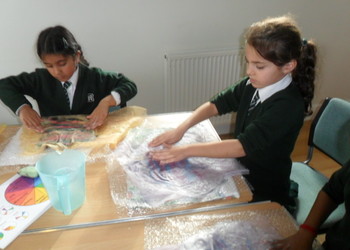 Our Year 2 pupils enjoyed a super trip to the Heath Robinson Museum in Pinner this week, where they looked at the different illustrations Heath Robinson had made and found clues in his pictures, like a swinging cat in a box. The pupils made felt with different coloured materials, using water and soap. It was great fun to have soapy hands!

JRSO Conference
Our Junior Road Safety Officers were invited to attend an event at Brunel University run by the London Borough of Hillingdon's Road Safety & School Travel Team this week. Our team, consisting of six pupils from Year 5 (Catherine L, Laura B, Jasmine B, Dhiya K, Esha T & Anaiya B) were invited to participate in a number of fun educational activities including a theatre performance, workshops and the Dragons Den (during which they had to present an idea and pitch for funding).
Over the past few weeks the team have been discussing ideas to improve road safety or school travel and they came up with the idea of a loyalty scheme to encourage safe, active walking to school. They investigated their ideas, looking at how it would be achieved and what the rewards for participating would be. They then had to research the costs involved and produce a proposal in the form of a presentation.
On the day the girls were excited but a little nervous and were part of the first group to be called in to face the "Dragons". They came across confidently and gave a polished presentation. The Dragon's commented on their well thought out ideas and clear costings. Councillor Burrows remarked that he has never had a school ask for funding for a loyalty scheme, and he was impressed at the innovative idea to encourage everyone to make a commitment to our scheme.
At the end of the day we all sat nervously waiting to find out if our pitch to the Dragons had been successful and I am delighted to say that not only did they endorse our idea but actually gave us more money they we had asked for, which is fantastic. This will enable to JRSOs not only to implement their idea but promote their scheme throughout the school with posters and banners.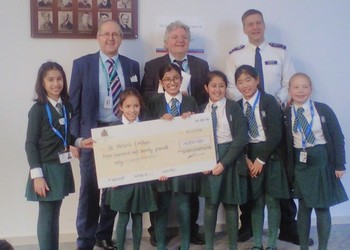 They very much deserved the funding that they received and we look forward to seeing their Active Walking Loyalty Scheme in action. Well done girls.
Sports Results
The Year 5/6 Netball B team played two matches this week, successfully winning both with improving performances. In their first match on Wednesday against Ryefield School they won 5 - 1. They then played St. Mary's School B team on Thursday, winning 3 - 0. The Year 5/6 Netball A team played St. Mary's School A team too on Thursday, dominating their match to win 12 - 0.
Our school football team resumed matches after the winter break with a 2-0 win against St. Andrew's, with Harry and Alex scoring the goals. This was followed up this week with a convincing 4-0 win over Laurel Lane School, with Alex scoring 2, Harry netting one and Jack H getting his first goal for the school. The team has started very well and hopefully we can keep this going for the remaining three matches. We welcome two new additions, Thomas W and Jack H, to the team.
BBC 500 Words Competition
The annual BBC 500 Words Short Story Competition is now open and entries are being accepted until 8th March for ages 5 - 13. This is a fun writing activity for the children with some fantastic prizes to be won, so we hope that you will encourage your child to enter. Half term is a super time for the children to plan and write a short story. An adult must submit a child's entry online so please feel free to submit your child's entry at home; alternatively, you may email the entry to your child's class teacher and we can submit it for you.
Here is a link to the main competition information:
https://www.bbc.co.uk/programmes/p00rfvk1
Here is the link to the resource pack, including planning tips and activities:
http://downloads.bbc.co.uk/radio2/500words/500_words_2019_resource_pack.pdf
Good luck to all entrants!
Waste Week: 25th-29th March
As part of waste week there will be a host of assemblies taking place by Mrs. Mann, Mrs. McLaughlin, Miss Dear and the Eco Reps. The theme this year is 'Say no to single use plastic', so we would like to set an optional half term challenge of taking photos of 'alternatives used instead of plastic'. These photos will then be displayed on our Eco Board for all to see. Please bring the photos into school and give to your class teacher no later than Friday 1st March.
During the week, the Eco Reps will keep a record of single use plastic they see from their class and the results will be shared in assembly, the aim being that all classes have 0% single use plastic. Children will be focussing on the theme in more detail in their lessons during that week to discuss, learn and debate this very important issue.
We look forward to seeing all your photos after the half term.